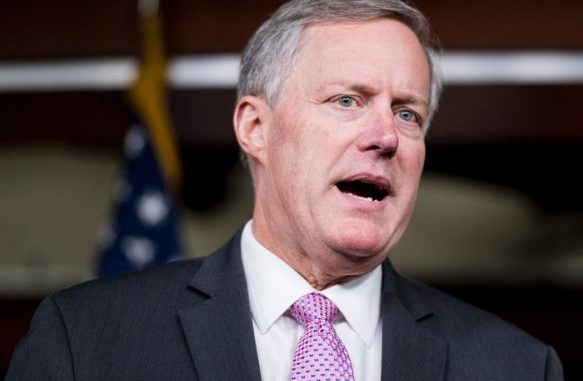 OAN Newsroom
UPDATED 2:13 PM PT – Wednesday, August 26, 2020
Chief of Staff Mark Meadows is losing confidence that the stall in stimulus negotiations will end soon. During an interview Wednesday, he heaped blame on House Speaker Nancy Pelosi.
Meadows accused her of stalling in the name of politics and said he's attempted to reach out to Pelosi as recently as Tuesday to restart talks, but has not gotten a response.
The White House chief of staff said its telling that Pelosi has bucked Republicans on a stimulus bill for so long yet pulled her party together to pass bailout for the post office through the weekend.
"Ultimately, there is over a $105 billion there for schools and she fails to act, and yet she somehow brings people in for a postal bill on a Saturday that's a largely messaging bill…that's her top priority?" he asked. "That's hard to sell on main street and it's hard to sell even with her most loyal, dedicated colleagues that supported her for speaker."
Speaker Pelosi and Democrats: if you really want to help Americans, how about passing relief for small businesses and unemployment assistance ALONG with postal funding?

We agree on these. There's NO reason not to deliver relief for Americans right now.

— Mark Meadows (@MarkMeadows) August 22, 2020
If negotiations continue into September, Republicans have discussed adding stimulus measures to a spending bill continuing resolution that will need to be passed by September 30 to avoid a government shutdown.