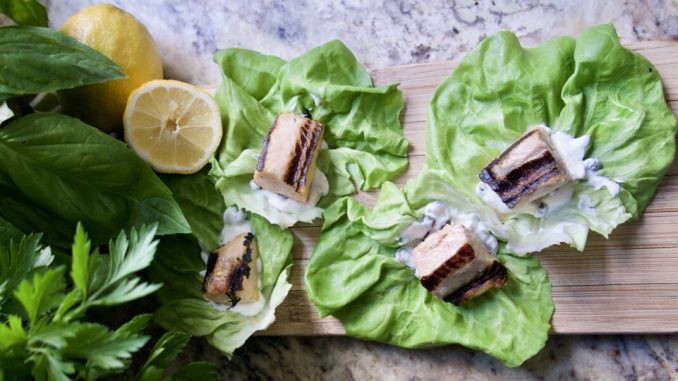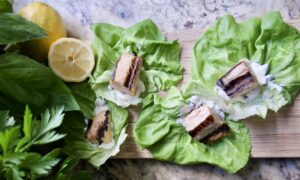 Less is more for salmon, as I want the flavor of the fish to come through. For these lettuce-wrapped "sliders," I grill bite-sized pieces of salmon and serve them in Boston lettuce cups, spread with a creamy, mayo-based sauce, made bright and tangy with lemon and capers. Other garnishes that may work are slices of avocado, mango, or thinly sliced peppers.
Makes 8
2 tablespoon mayonnaise (or Greek yogurt)
2 tablespoon capers
2 tablespoon lemon juice
8 Boston lettuce leaves
8 2-inch pieces salmon
Sea salt and freshly ground black pepper
In a small bowl, mix together the mayonnaise, capers, and lemon juice. Season with salt and pepper and taste to adjust seasonings. Spread the lettuce leaves with the mayonnaise mixture and set aside.
On a hot grill, cook the salmon for 2 minutes per side. Place a piece in each of the prepared lettuce leaves and season with salt and pepper to taste.