Melanie Brown, a Bristol Bay fisherman of Yupik/Inupiaq ancestry, shared this recipe for salmon soup. It's based on her great-grandmother's fish-head stew.
1 bouillon cube, or 1 teaspoon bouillon paste
1/2 small onion, cut into rings or half-rings
1 celery heart, cut crosswise into 1/4-inch-thick crescents
Sea salt
Onion powder
1/4 cup uncooked rice
2 tablespoons soy sauce or tamari
1 salmon head
Tail end of salmon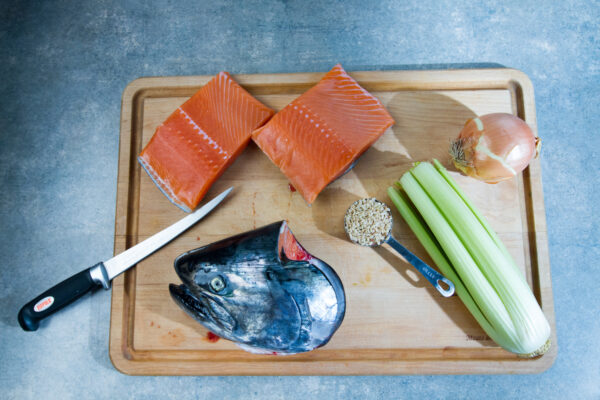 Fill a soup pot half full with cold water and place on it medium heat. Add a bouillon cube or bouillon paste and dissolve into heating water.
Sauté onion that has been cut into rings or half-rings. Add celery that has been cut crosswise into crescents across the whole celery heart—roughly seven cuts, about 1/4-inch wide. Add some seasoning of salt and onion powder, so that the flavors bind for the flavor base of the soup. Add onion and celery sauté to the soup when they become softer, but not mushy.
Add the rice to the soup, as well as roughly 2 tablespoons of soy sauce.
Begin preparing your salmon, but don't put into the soup pot until the rice is cooked.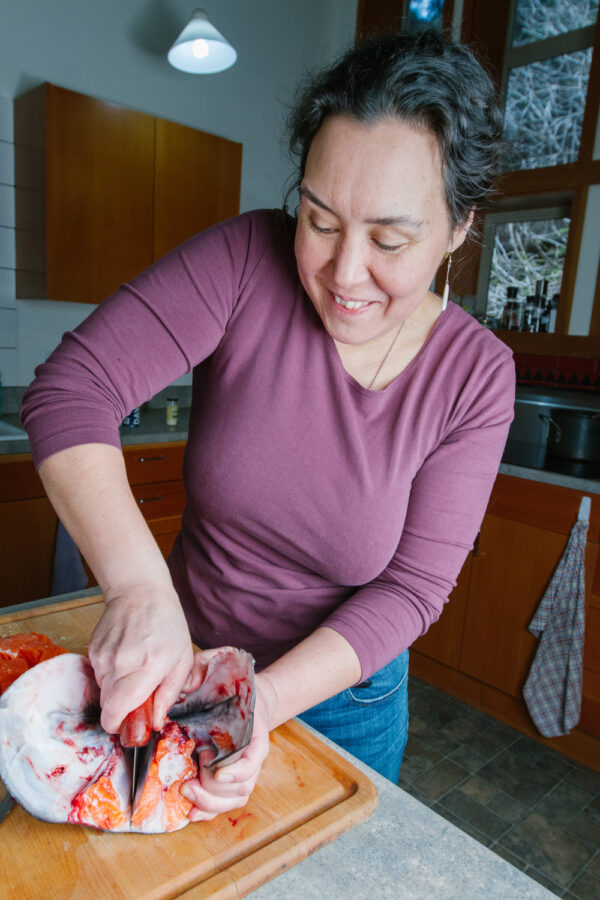 Rinse excess slime off of the salmon head and make sure that the gills are cut out from under the gill plates. Work carefully, because the head is slippery and difficult to cut through. Cut it in half, so that you have two mirrored sides, and then begin cutting each side into smaller pieces. Cut around the eyes to leave intact for the eye lovers. Also, be sure not to cut through the cheeks—cut around them so that they remain intact. If there's any blood on the pieces after you're done cutting them, be sure to rinse it off with cold water. The blood will discolor the broth and taint the flavor.
Cut the tail portion of the salmon into cubes with the skin still on it. The skin will easily come off when the salmon is cooked in the soup.
When the rice is cooked, turn the heat down to low and carefully place the pieces of head into the soup pot. Use the eye and the cartilage as a visual guide. When the center of the eye is white and the cartilage has turned from clear to milky, put the salmon cubes in and remove the pot from the heat. The fish will cook very quickly.
The cartilage in the head is easy to chew through and very flavorful. Other bits that aren't edible will stay between your teeth when you bite them, and you can sort them out. Make sure that you suck the juice out of the bits before taking them out of your mouth. Your hands will get sticky from the richness of the oil. Just accept the fact that your meal will be a very tactile and visceral experience.
Courtesy of Melanie Brown