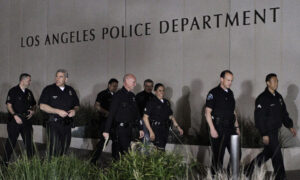 Los Angeles Police Department (LAPD) commissioners unanimously passed an initiative May 25 that aims to better support women in the police force.
"The goal of the 30×30 initiative is to increase the representation of women in policing recruit classes by 30 percent by 2030," Commander Ruby Flores said during the meeting. "The initiative goal is not only just to increase the number of women in policing, but the pledge also aims to ensure that police policies and culture intentionally support the success of qualified workers in their career."
Flores said having women in the police force allows for better outcomes when it comes to using less excessive force and approaching cases such as sexual assault.
Right now, 82 percent of LAPD's officers are men, Sgt. Erin Johnson told the commission. The police department is looking to increase that percentage in the next few years.
Studies have shown that women face barriers to entering the force, Johnson said, pointing to physical tests and shift work that can make the work-life balance difficult.
The commissioners noted that physical fitness requirements for men and women in California are the same. With the physical test revolving around upper body strength, women tend to struggle more to succeed.
Commissioners are seeking to bridge the gender gap by using no or low-cost tactics to address personal and professional barriers.
"There's a lack of accommodating parental policies, a lack of childcare assistance, work life balance issues, [and] lack of career development training," Johnson said.
To better support women, LAPD will also be relaunching a maternity uniform closet program that will support pregnant women and nursing mothers.
Sgt. Sonia Rimkunas spoke during the meeting to support the initiative.
"I am a single mother, and some of those challenges have come from trying to balance and being the very best mom that I can be for my son, while I balance being a productive and contributive member of the department,"  Rimkunas said.
The initiative encompasses two phases that revolve around the hiring, retention, and promotion of women while also gaining knowledge of barriers they face in policing.
LAPD commissioners joined more than 40 law enforcement agencies nationwide in signing the 30×30 pledge.