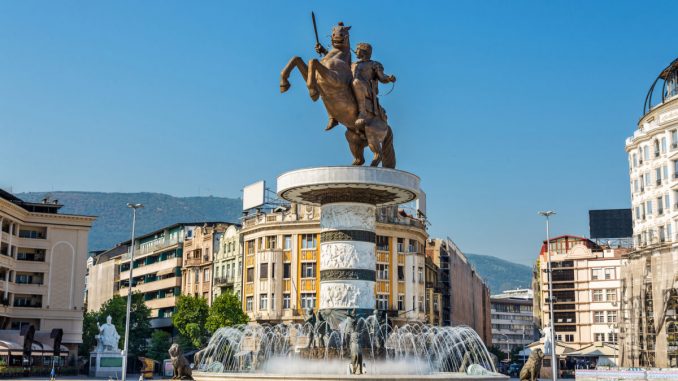 It's beautiful—and maybe a little bizarre. Everything in the heart of this national capital is grand. A statue of Alexander the Great dominates the main square, the global conqueror astride a bucking horse, his sword drawn, fountains gushing all around. Entering the square, I pass through a soaring gate, itself reminiscent of the Arc de Triomphe in Paris. Nearby, pedestrians stroll across the Art Bridge, over the Vardar River, a span lined with 28 tributes to national heroes, poets, playwrights, authors, and composers.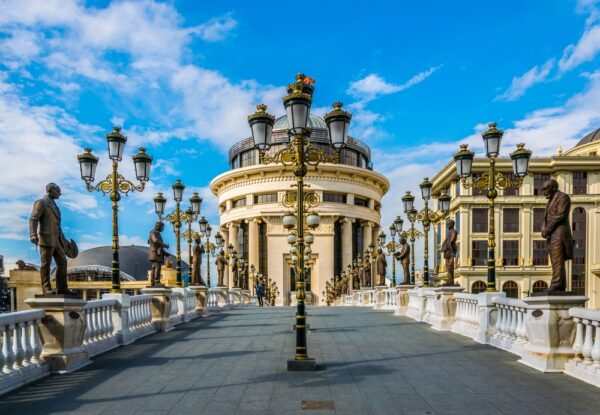 I feel like I've arrived in Rome, or Athens, or some other ancient place. But while Skopje has a history dating back thousands of years, everything around me is new, all of it built and unveiled less than a decade ago, as part of a $700-million building initiative to stir passion and stoke pride. Up next? A few lessons about the struggles of small nations, and one of the most controversial languages in the world.
I'm in the capital of Macedonia, one of six former republics of what was once known as Yugoslavia. The country is officially called the Republic of North Macedonia—it's a long story, but the recent name change resolved a three-decades-long dispute with its southern neighbor, Greece. In this part of the world, identity is a tricky thing. As I travel through Croatia, Montenegro, Slovenia, Serbia, and Bosnia and Herzegovina, I encounter time-honored culture, and an active search for those things that divide, as well as unite.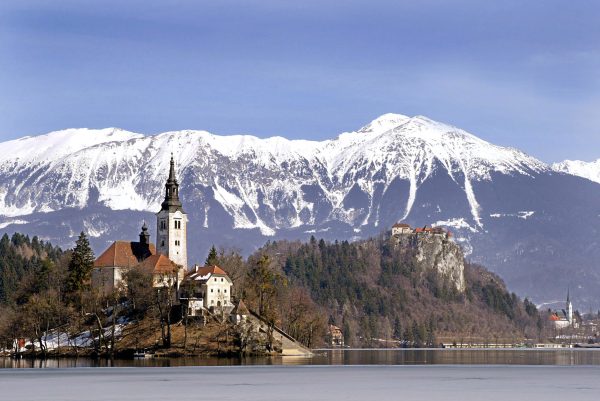 The Balkans, of course, are known for war, most recently a series of conflicts through which each of these six carved their own autonomy, from 1991 to 2001. Once, these lands were Ottoman and Habsburg, but when the victors dissolved those vast, multi-national empires after the First World War, leaders created a new state bringing together the southern Slavic nations. They remained together as Yugoslavia until 1992, part of the Soviet sphere of influence, but always a little more removed from Moscow than other countries in the Eastern Bloc.
In North Macedonia, leaders have sought a collective identity by making Alexander the Great—the man who wept, because there were no more worlds to conquer—a national hero. The biggest problem with that: Greece claims him wholly as their own, pointing out that he actually spoke an ancient form of Greek, and hailed from an ancient city near Thessaloniki. The whole issue provoked political tensions so profound that the country changed its name from the Former Yugoslav Republic of Macedonia (FYROM) to North Macedonia, and took Alexander's name off the international airport in Skopje (which is pronounced, Scope-eeya).
And then, there's the language. Macedonian is a Slavic tongue, much different than the language actually spoken by Alexander. But Bulgarians insist, rather strongly, that it's not a language at all—just a dialect of Bulgarian—leading to hot academic debate and even diplomatic issues between Skopje and Sofia.
I see it all, this path to identity, at the Museum of the Macedonian Struggle, just opened in 2011, a palatial building on the banks of the Vardar. There, a young guide leads me through the various eras of recent history, from armed resistance to the Ottomans dating as far back as the 16th century, to revolutions and uprising in the 20th. All of the well-designed exhibits basically emphasize one thing—that the Macedonians are a small nation, with a distinct history and identity.
And while North Macedonia may provide the most focussed example, I see versions of this historical cross-pollination all across the former Yugoslavia. In Slovenia, a tiny, picturesque country wedged between Croatia and Italy, I encounter Venetian, German, Italian, and Croatian food and architecture and other cultural elements. Montenegro, too, was a crossroads of cultures, and they've incorporated them rather handsomely into a small nation that feels like a hidden kingdom, mountains meeting the sea. Belgrade is big and broad-shouldered and still feels like the capital of a larger country, a city that's both proudly Serbian and not afraid of its scars, where they've fought more than 100 wars, and had their homes razed more than 40 times.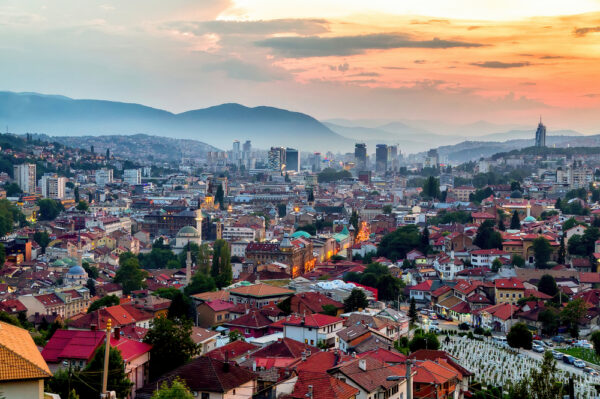 But if one city is infamous for the complexities and conflicts of peoples, it's Sarajevo. Suffering one of the longest sieges in modern history, from 1992 to 1996, I expect a place still mired in sadness. Yes, some of its buildings still bear bullet holes and big craters from exploding mortar shells. And the soaring hillsides, backed by white-capped mountains, are lined with the graves of some 14,000 people killed during the siege, some of the markers overlooking the now-disused Olympic village from the 1984 Winter Games. I walk through part of a half-mile "Tunnel of Hope" that ran under the airport, and served as the city's only link to the outside world, afterward watching news footage of those horrific days.
But I also encounter a city on the rise, a skyline that brings together minarets and domes and church spires. A valley where east meets west, where Islam and Judaism and two forms of Catholicism have coexisted for centuries, where Bosnians, Serbs, Croatians, and Muslims (known as "Bosniaks") continue to live as neighbors. In the vibrant Bascarsija, the old town, which was built by the Ottomans, I walk little lanes that feel distinctly Turkish, strolling from mosque to cathedral, the cooking smells of filo dough and roasted chestnuts and mince-meat sausages drawing me to a simple little sidewalk restaurant for an unforgettable meal.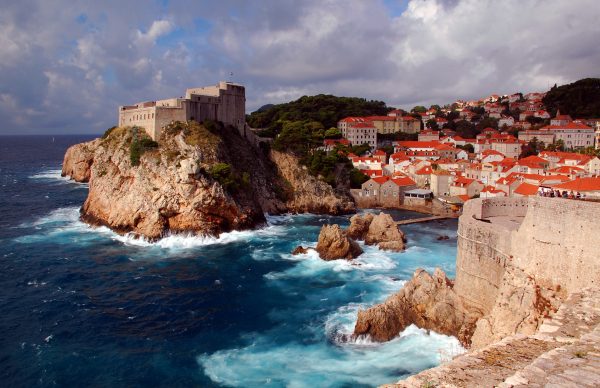 And in Croatia, which has had perhaps the greatest economic success of all the former republics—its fine beaches and islands and truffles and seaside cities becoming major tourist destinations—I'm reminded that identity, above all, is personal. First, at the Love Stories Museum in Dubrovnik, which brings together items of sentimental value from all over the place, weaving together surrounding narratives, from the local tales and myths of old Dubrovnik, to intensely individual stories from around the world.
And then, at the Museum of Broken Relationships in Zagreb, Croatia's landlocked capital. I had low expectations for this city, perhaps (very unfairly) judging it only by its name, a collection of hard, ugly consonants. But what I find is a lovely place, where history dates back to the Romans, with the oldest part of the city divided between upper and lower towns. Big parks and broad streets below, and a rambling, medieval, and gothic labyrinth above, crowned by the bright, vibrant, 13th-century St. Mark's Church, the city's most-photographed landmark.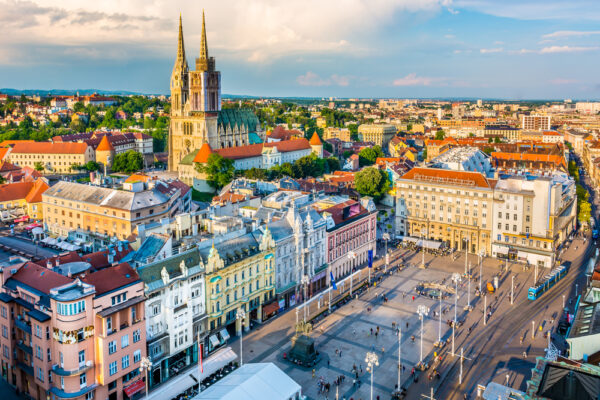 It's in Upper Town, in a former palace, where I find the museum. Again international, the stories aren't just Croatian—I find contributions from across Europe and North America. The objects themselves are meaningless. Here, a black stiletto shoe (just one), there, a wristwatch, or a hairdryer. But the narratives, how these innocuous things determined a life's path for not just a single soul, but rather two people, illustrate the comedy and tragedy of our days, and how we define ourselves.
I leave contemplative—and hungry. Winding through the warren of lanes, I determine that I will pair a good, local wine with a steaming plate of something, the options coming from both the east and west, pasta, dumplings, stews. All while reflecting on identity, in this part of the world where cultures come together.
Toronto-based writer Tim Johnson is always traveling in search of the next great story. Having visited 140 countries across all seven continents, he's tracked lions on foot in Botswana, dug for dinosaur bones in Mongolia, and walked among a half-million penguins on South Georgia Island. He contributes to some of North America's largest publications, including CNN Travel, Bloomberg, and The Globe and Mail.