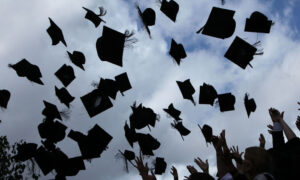 An 88-year-old college student made history in the California State University system after walking the commencement stage May 24 to receive two bachelor's degrees.
Maria Manning walked with the rest of the class of 2021 in two separate commencement ceremonies after completing liberal studies and Spanish public services degrees at California State University–Dominguez Hills (Cal State–Dominguez Hills).
"For those people that say they're too old to go back to school, [you're] never too old," Manning told The Epoch Times.
Manning has been taking courses at Cal State–Dominguez Hills since the 1990s. But as a result of dealing with her own medical issues and caring for her husband, she said she was unable to complete her studies all at once.
At one point, she had to drop a semester's worth of classes after having surgery.
Nevertheless, Manning said she was determined to finish her degrees to avoid her previous efforts from being wasted.
While attending university, Manning participated in various courses including music and choir classes.
The college graduate's educational journey is not over yet. Manning said she plans to continue her schooling by taking music classes to learn the piano.
Manning is the oldest graduate in the California State University system to receive two college degrees.