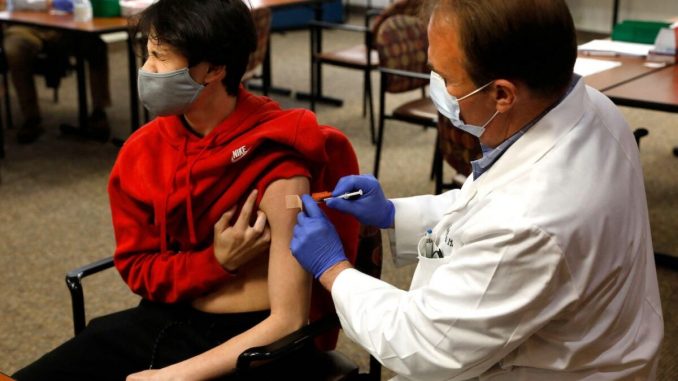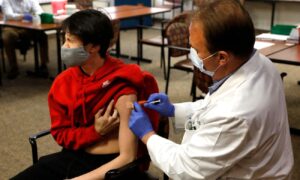 WASHINGTON—The debate is growing over whether the developed countries including the United States should temporarily waive intellectual property (IP) and patent rights on COVID-19 vaccines to expedite global vaccination efforts.
The Biden Administration on May 5 announced that it would support the waiver of those protections for vaccines "to expand vaccine manufacturing and distribution" around the world to end the pandemic.
Experts, however, believe waiving patents would not resolve the vaccine shortage problem due to the complexity of producing the mRNA-based vaccines. They also argue that the move would allow countries like China to exploit American innovation and technology to their advantage.
"There is absolutely no need or compelling rationale" for the IP waiver, according to Stephen Ezell, vice president at the Information Technology and Innovation Foundation, a technology think tank.
Once a country forces the disclosure of know how there would be no control over who has access to it, he told The Epoch Times.
This will not only affect the COVID-19 vaccines but also non-COVID related drugs and therapies using mRNA technology.
"What's absurd is their assertion that such a waiver wouldn't lead to China getting their hands on technologies innovative companies have invested billions to develop; and instead of China getting through stealing it, our own government would be complicit in compelling its handover," Ezell said.
Traditional vaccines put a weakened or inactivated germ into people's bodies to trigger an immune response. Vaccines produced by Pfizer and Moderna, however, use messenger ribonucleic acid (mRNA) that teaches cells how to make a protein to trigger an immune response when someone gets infected.
The mRNA vaccine technology established a new platform for vaccine and gene therapy industries. And some Chinese firms have also started to develop their vaccines using this new technology. However, Western companies are still leaders in this space. And China does not have any prior experience on industrial-scale production of mRNA vaccine, according to Sean Lin, a microbiologist and a former lab director of the viral disease branch of the Walter Reed Army Institute of Research.
"The intellectual property waiver for mRNA vaccine would encourage more Chinese biotech and pharmaceutical companies to jump into mRNA vaccine industry," Lin told the Epoch Times.
"This would definitely create more competition for the demand of related raw materials, such as different enzymes and NTPs," he said, adding that major companies that produce the molecular biology reagents are based in the United States and Europe.
"When more companies emerge to work on mRNA technology, relying on the same high-quality molecular biology raw materials, it would significantly challenge and complicate the supply market for key molecular biology raw materials needed," he noted.
"The waiver of related technologies is a nice political gesture, but its impact on the industry and the efficiency of vaccine rollout might be harmful," Lin said.
Progressives Urge for IP Waiver
A group of progressive lawmakers and advocacy organizations have been pressing the White House to endorse lifting patent barriers.
Advocates claim that waiving the IP rules on vaccines will help many poor nations, as it will allow more manufacturers around the world to produce the vaccines. According to estimates, widespread vaccination coverage in poorer countries will not be achieved before 2023.
Public Citizen, a progressive consumer advocacy organization accused big pharma lobbyists of blocking expanded vaccine production and using China as an excuse.
The organization called the claims that IP waivers would help China "absurd" and a "distraction."
South Africa and India were the first countries that requested waivers that would allow members of the World Trade Organization (WTO) to not enforce rules protecting patents covered under the organization's Trade-Related Aspects of Intellectual Property Rights (TRIPs) agreement. More than 100 countries have supported the proposal by South Africa and India.
U.S. Trade Representative Trade Katherine Tai issued a statement on May 5, voicing the Biden administration's support for the waiver of IP protections.
"The Administration believes strongly in intellectual property protections, but in service of ending this pandemic, supports the waiver of those protections for COVID-19 vaccines," Tai wrote.
She said that the U.S. government would "actively participate" in the WTO negotiations to make that happen but also cautioned it would take time to reach a consensus among WTO members.
Senate Republicans called on the Biden administration to reverse its "disastrous decision" to support the waiver.
In a letter addressed to Commerce Secretary Gina Raimondo and Ambassador Tai on May 19, the senators criticized the administration for putting "America's interests last and China's interests first."
"At best, all President Biden's giveaway to China and India and others will do is foster uncoordinated vaccine nationalism, as countries jump in to try to coerce technology transfer and manufacturing locally," they wrote.  "At worst, this action will provide a boost to the Chinese Communist Party's 'vaccine diplomacy' and enable Beijing to undercut American leadership on vaccine distribution throughout the developing world."
German pharmaceutical company BioNTech, partner of Pfizer opposed the proposal to temporarily lift IP rights for vaccines.
Ugur Sahin, the chief executive of BioNTech during an earnings call on May 10 said waiving patents would not ease supply shortages in the coming months.
"We believe, together with the other vaccine developers, in the next 9 to 12 months, that there will be more than enough vaccine produced and there is absolutely no need for waiving patents," he said.
The U.S. proposal to waive patent rights has faced opposition from Germany.
German Chancellor Angela Merkel pushed back against the proposal, saying "production capacities and the high-quality standards, not the patents" were the problem.
"The protection of intellectual property is a source of innovation and it must remain so in the future," she said.