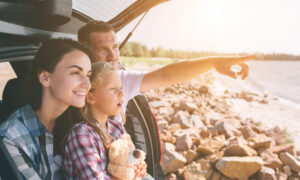 Everyone knows that COVID forced a screeching halt in the way of the world as we knew it—and that beyond our day-to-day routines, the cancellations and adjustments included our celebrations, extracurricular activities, and vacation plans, too.
"We have traveled to Maui every August for the last eight years, except last year," shares Keri Baugh, who runs the family travel blog Bon Voyage With Kids. "When celebrating our 10th anniversary there in 2010, we made a promise we would absolutely celebrate our 20th there as well; last year, we were uncertain until the last minute if we might be able to squeeze Maui in, but due to the state's closures, we were unable to travel there. The 20th anniversary we had planned and expected to celebrate in Maui for the last 10 years was not to be."
Sadly, Baugh's example is not unique—millions of people around the world were in her same shoes over the past year and were forced to postpone celebrations, cancel plans, miss out on visits with family, and more.
But with the widespread rollout of vaccines and travel restrictions loosening, this summer's travel plans are looking up. Like many others, Baugh is planning to get back out there and make up for lost time and missed memories. "We decided this year, we needed that do-over so we could have the 20th-anniversary celebration we had hoped for," Baugh says.
Michelle Weigold, an artist, teacher, and travel blogger at Great Wide Somewhere, has a similar story of interrupted travel—but is determined to find the silver lining.
"Last spring [March 2020], I had a babymoon planned with my husband to go to Puerto Rico to explore Old San Juan and El Yunque rainforest," she shares. That trip proved impossible. "I was upset, given it was our last chance to travel without children, but such is life. Now, a year later, we are going to try again to go to Puerto Rico, but this time we will have a one-year-old baby with us. We debated going to Mexico instead, but figured with the ease of not needing a COVID test to get back into the U.S., Puerto Rico was easier."
Resuming or Making Up for Ruined Plans
Baugh and Weigold are part of a larger trend: resuming COVID-interrupted travel plans. Such actions are contributing to the swift return of summer travel. With increased flexibility career-wise—many employers are extending work-from-home policies for the foreseeable future—as well as the personal reckoning many have experienced at the hand of the pandemic, priorities are changing and travel is resurging as a result. Some adults are taking "gap years" between COVID-lost jobs or implementing more remote, travel-focused lifestyles after a forced rearrangement of their personal priorities.
Booking sites have seen a major uptick in reservations this summer—short-term rental site Mint House says that in Nashville alone, rooms sold for summer 2021 are already 15 percent higher than summer 2019—and many destinations have launched campaigns to encourage travelers to make up for missed milestones from the last year. Visit California's Dreaming On In California initiative, for example, is an opportunity for travelers to resume postponed plans during a weeklong celebration (June 21-25) with epic experiences across the state.
Summer Travel Is Hot, but Desires Have Shifted
Summer travel is resuming, on tip toes but with a vengeance, and the market isn't blind to this trend. While travel's forthcoming recovery is good news overall, the flip side is that the formerly rock-bottom prices we saw during the pandemic are increasing to match the demand.
Increased prices aren't the only summer travel trend; travelers are looking for added layers of security when setting out this summer. According to a survey by the American Society of Travel Agents (ASTA), nearly half of travelers (44 percent) are more likely to use a travel advisor after the pandemic, and people who always or often used a travel advisor are more ready to travel within the next three months (72 percent) compared to non-travel-advisor-users (47 percent).
Where people desire to go has shifted, too, according to the ASTA: Nearly two-thirds of travelers (62 percent) desire a vacation in the U.S., nearly half (45 percent) would like to go to Europe, and 44 percent are hoping to visit the Caribbean—a pretty stark contrast to a similar survey from January 2020, when 75 percent of travelers planned to take a trip within the U.S. and 17 percent had Europe on their itinerary. Unsurprisingly, only 29 percent of those recently surveyed said they want to visit a big city.
People seem eager to explore and try new things, according to some indications. A survey conducted by OnePoll on behalf of online RV rental platform Outdoorsy found that nearly six in 10 Americans (59 percent) want to try something new for the very first time during their vacation this summer—things like trying different foods, bungee jumping, camping, or even cross-country road trips to see friends.
Road Trips, RVs, and the Great Outdoors
Road trips and RVs are another major trend this summer: the same Outdoorsy survey found that two-thirds of respondents said they feel more inclined to rent an RV or camper van now than before the pandemic started, and when it comes to travel options that Americans consider safest, driving topped the list at 44 percent followed by cruising (37 percent) and flying (33 percent). In fact, 81 percent reported that due to the pandemic, they feel the need to find alternative travel destinations or an alternative form of travel, compared to their usual routine.
Survey results from Morning Consult suggested the same—that a car is currently the preferred method of transit, as 57 percent of Americans currently feel safe renting a car and 73 percent feel comfortable taking a road trip.
People also are gravitating toward the great outdoors, as 62 percent would rather spend their vacation surrounded by nature this summer, which seems to be a natural reaction to the past year of lockdowns, quarantines, and social distancing requirements.
"As we head into the summer months, the desire and the demand to get out of the house is at an all-time high," Outdoorsy co-founder and CMO Jen Young said in a release. "We're seeing more and more people seek out alternative ways to travel that allow them to stay away from crowds and be in a location where fresh air and open space are their closest companions."
If you're considering a road trip this summer, you might want to plan on doing so within driving distance of your home so you don't have to rent a car: Priceline's National Road Trip Day survey found that the majority of Americans (59 percent) are interested in renting a car for their summer road trip—but demand is so high that rental rates have soared by 30 percent (compared to 2019 pricing).
What About Cruising?
Cruising has been mostly on pause since the pandemic struck. According to a cruise industry analysis by Gene Sloan of The Points Guy, as summer approaches, "cruising will begin resuming in a bigger way, mostly in the Mediterranean." Sloan says that more than a dozen cruise ships are scheduled to restart operations in the Mediterranean between May and August as European countries open back up to tourists.
In the U.S., however, it's a different story. "While a few lines plan to start cruises to the Bahamas and Caribbean in the next couple months out of non-U.S. ports such as Nassau, there might not be any cruising out of U.S. ports until the late summer," Sloan shares. "That's in large part because the CDC continues to block cruise lines from sailing out of U.S. ports due to worries about the spread of COVID-19."
According to Sloan, the outlook for summer cruising out of US ports is currently in flux. "In recent weeks, cruise lines have grown more optimistic about a mid-July restart of cruising out of U.S. ports thanks to recent, more upbeat communications with the CDC," he says. But with new requirements issued by the CDC, this means "cruise lines will have to meet to restart operations out of U.S. ports that has some executives saying a mid-summer restart is now unlikely."
While interest in cruising remains complicated and so do ship restrictions, it's likely that road trips and time in nature will be the MO this summer, rather than setting sail.
Who's Traveling?
Even (and perhaps especially) the older demographic is making plans to travel this summer. Ann Shannon, VP of customer and public relations at Overseas Adventure Travel, which caters to travelers over 50, says they're resuming international travel on more than 25 adventures by land and sea starting in July 2021. "Our reservations are up 30 percent compared to earlier this year," she shares. "Travelers tend to be in their 60s and 70s, even 80s. Many are solo women travelers."
Some of those older travelers will likely jet off with their families, too. Intel from luxury travel company Black Tomato suggests that multi-generational travel is another big thing this summer. When it comes to who's traveling, "multi-generational travel and honeymoons are leading the trend, respectively," a company spokesperson shared. "We saw a 70 percent increase in bookings for multi-generational travel, and specifically, many families."
They add that interestingly, travelers are now willing to spend more and stay longer, likely due to saving money by traveling less in 2020 and having a renewed appreciation for the freedom to explore.
"There's a 55 percent increase in average spend per family trip," the company adds. "These folks are spending more money and staying for longer in their chosen destinations," indicating " a slower form of travel that lends itself nicely to getting under the skin of a destination without relying on many interior flights and transfers."
If you're ready to set out this summer, you're not alone. Make plans and make up for lost time.
Skye Sherman is a freelance travel writer based in West Palm Beach, Fla. She covers news, transit, and international destinations for a variety of outlets. You can follow her adventures on Instagram and Twitter @skyesherman.