Officials throughout California are preparing for another crippling drought throughout the state—but officials in Orange County say they are ready.
After two years of below-average precipitation levels, fears of devastating wildfires loom on the horizon. The ground throughout the state has become parched, threatening vegetation and daily life.
Experts are encouraging people throughout Southern California to increase water conservation efforts and take precautionary measures against the state's devastating wildfires, which they say are likely to become worse and more frequent.
Greg Barta, a spokesperson for the Orange County Fire Authority (OCFA), told The Epoch Times that the department's more than 1,500 firefighters now face the grim prospect of battling wildfires in the region throughout the year.
"There used to be this theory that basically the fire season was kind of like September, October, [and] November, and now what we've seen is fire season's pretty much year-round," Barta said.
Last year was a record-setting year for wildfires that burned across the state, according to the California Department of Forestry and Fire Protection (Cal Fire). The agency reported that nearly 10,000 fires burned over 4 million acres—equivalent to more than 4 percent of the state's nearly 100 million acres of land.
On May 5, the agency reported that over 13,000 acres had already burned in California this year, nearly eight times the amount during the same period in 2020.
Karla Nemeth, director of the California Department of Water Resources (DWR), said recently "there is no doubt California is in a critically dry year."
"State agencies, water suppliers and Californians are more prepared than ever to adapt to dry conditions and meet the challenges that may be ahead," Nemeth said in a press release that noted state snowpack levels are "well below normal."
But though Californians may be "more prepared than ever," Orange County has taken proactive steps to back it up.
The Growing Threat of Wildfires
Last year, three of the most devastating wildfires in the Southern California region were in Orange County: the Bond Fire, the Blue Ridge Fire, and the Silverado Fire. The blazes scorched nearly 34,000 acres total.
The wildfires are a result of the state's climate, its dry vegetation, and human error, Barta said—adding that the lack of "a heavy rain season certainly plays a huge factor in that."
"What we've seen trending the last few years is that we're not getting much precipitation, which is causing the vegetation to be at critically low fuel moisture levels," Barta said.
"So, without the water, the fuel dries out, and then we have dry fuel. It makes it easier to ignite, and then we see sustained fire and sustained rapid growth."
Orange County firefighters say they are already on high alert: They go through intense training year-round, which includes responding to simulated fires. The department also educates the public on how to minimize risk or damage should a fire arise in their area.
"We have a 'Ready, Set, Go!' program, which was really geared towards residents living in the urban interface," Barta said, referring to people living in the county on the edge of development.
He said many of those neighborhoods are intermixed and intertwined with brush areas, "or they're in an area where they can potentially be impacted by brush fire."
"We want to educate them on how they can harden their home, so that it is more likely to survive with fire, and things that they can do to give their home the best chance of survival," he said.
Barta also said OCFA prefers to take a "proactive approach to vegetation management."
"We will take opportunities to remove vegetation in areas that could impact our operations and for the community," he said.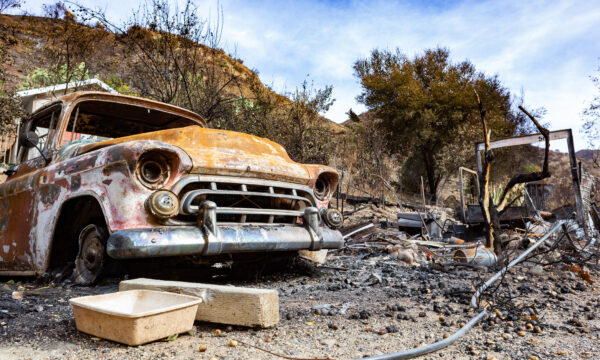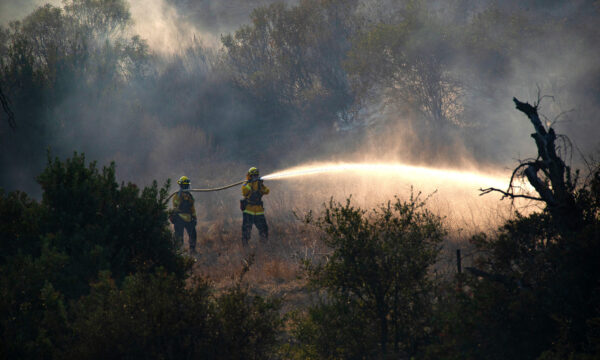 The Groundwater System
Orange County may be in good shape to deal with the drought because the county has a unique groundwater replenishment system that provides the largest water recycling plant of its kind in the world, according to Orange County Water District (OCWD) President Steve Sheldon.
"It is the largest indirect potable recycling—which means that we treat the fluid through a multistage process, and it comes out similar to distilled water," Sheldon told The Epoch Times.
OCWD takes the limited water supply found in nature and supplements it to service more than 2.5 million people in the county, said Sheldon. The department then acts as a wholesaler to each city in the county.
It's been supplying water to citizens since 1933, when it was formed by the state Legislature to protect the region's groundwater basin and the county's rights to Santa Ana River water. The department "replenishes the basin, ensures water reliability and quality, [and] prevents seawater intrusion," according to its website.
The department's job is to always increase the groundwater supply, Sheldon said. Despite state officials declaring an emergency, he said the county is not quite in a drought yet.
OCWD is one of the few water management agencies that can track its water basin supply on a monthly basis. Currently, through the end of April, the groundwater storage is 80 percent full (with over 280,000 acre-feet of water content, about the size of San Antonio, Texas), down 4.5 percent from the same time last year.
Roughly 77 percent of the water in northern Orange County comes from the groundwater, said Sheldon. The other 23 percent is imported from the Colorado River.
"Our groundwater is stable when it rains. We draw it down when we need to, during the summer," he said. "But in the future, then there will be a lot more mandatory water conservation programs like we experienced a few years ago—and we're not really there yet."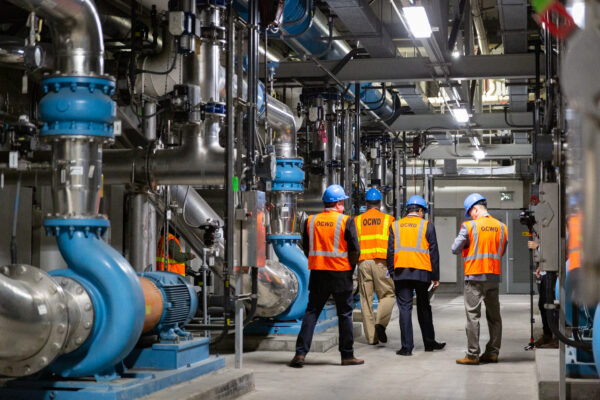 Innovative Agriculture
For the last 35 years, Janet Hartin has studied drought-resistant landscaping under severe climatic conditions. In part, she focuses on what residents can do to limit water use in their yards—which she says is an essential part of conservation—while maintaining plant life that can mitigate the spread of wildfires.
Hartin, the University of California Environmental Horticulture Adviser for Los Angeles and Riverside counties, said the state is in for a "mid- to long-term drought," based on what her colleagues in climatology are predicting.
"The last drought period we had, by the second or third year you start to see the landscape trees really waning," she said. "They can kind of chug along for a while, but it's cumulative, so after the second year of dry conditions, then the reservoirs around the trees [get] depleted."
Residents tend to over-water their lawns and gardens when it gets drier, she said, especially in the summertime. However, "the sprinkler systems are still not spreading water uniformly, so they may not save any water."
"It's often the sprinkler system that's wasting more water than the plants were," she said.
Some water districts in Southern California are offering incentives and rebates for people to replace their lawns with more drought-efficient plants, she said. But it's a common myth, she added, that people should rip out their lawns and simply insert native plants instead. "It's not 1752 anymore," she said.
Hartin is spearheading research on various tree species—at the South Coast Research and Extension Center in Irvine—to see if they can survive in one climate zone warmer than the state's current levels.
"If you look at our urban heat islands and you look at the plants that existed hundreds of years ago—California natives there—some of them just aren't going to survive anymore. So we have to look at adaptive natives, and also to broaden the plant palette by bringing in adaptive non-natives," she said.
"We're looking at trees for the future that are growing well in one climate zone warmer right now, planting them in the cooler climates, and seeing how they perform over decades and decades. We've had them in the ground about five years, and there's some real promising results with that."
On May 13, officials predicted another difficult wildfire year due to extensive drought throughout the state. The following day, Gov. Gavin Newsom—who earlier in the week expanded the state's drought emergency proclamation to include 41 out of 58 counties—proposed $2 billion in emergency preparedness investments in his revised annual budget, on top of $3 billion already earmarked for Cal Fire.
California leaders have already allotted $536 million to hire additional firefighters and fund fire mitigation procedures, which include improving forest management and making homes more fire-resistant. Cal Fire is taking steps to ensure it's prepared by hiring 1,400 additional crew members.