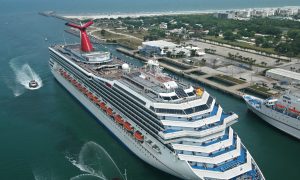 Three Carnival Corporation lines—Princess Cruises, Holland America Line, and Carnival Cruise Line—as well as Norwegian Cruise Line vessel Norwegian Bliss, are poised to set sail to Alaska in July, after Congress on Thursday passed the Alaska Tourism Restoration Act, paving the way for the resumption of Alaska-bound ships after a pandemic-related stoppage.
This bill, which now heads to President Joe Biden's desk to be signed into law, will allow cruise ships in 2021 to sail from Washington state to Alaska without needing to stop in Canada, which banned cruise ships from its waters due to the pandemic.
Speaking on the House floor, Rep. Don Young (R-Alaska) hailed the bill's passage.
"We lost billions of dollars last year because of COVID in the tourist industry, and this bill that we just passed by this House unanimously will give us an opportunity to recover that, not the money, but the ability to take and serve the people of America and the tourist industry in and southeast Alaska and the rest of the state of Alaska," he said.
Alaska Gov. Mike Dunleavy praised the move in a statement, saying, "the return of the cruise industry to Alaska is great news for anyone hoping to experience the rugged beauty of the Last Frontier."
"More importantly, it signals a hopeful new chapter for the dozens of communities and tens of thousands of Alaskans who rely on cruise industry partners to help them share Alaska with the world," Dunleavy added.
Carnival Corporation announced in a release that Princess Cruises, Holland America Line, and Carnival Cruise Line are expected to return to service in the United States starting in July with Alaska sailings departing from Seattle.
The cruises are open to guests who have had their final dose of an approved COVID-19 vaccine at least two weeks before cruise departure.
"Crew vaccinations will be in accordance with CDC guidelines," Carnival said in the release. Arnold Donald, CEO of Carnival Corporation, said in a statement that, "As we continue to work with the CDC on requirements for sailing in the United States, we remain committed to returning to service in a way that serves the best interest of public health."
Princess Cruises will resume operations in Alaska starting July 25 through September 26, with seven-day cruises onboard Majestic Princess. Holland America Line will resume its cruise operations to Alaska on July 24, with seven-day itineraries aboard Nieuw Amsterdam. Carnival Cruise Line has opened Alaska sailings departing from Seattle beginning July 27.
Norwegian Cruise Lines' vessel Norwegian Bliss is scheduled to depart for Alaska on Aug. 7.
"We remain optimistic that by working with the CDC and local port and government authorities in the destinations we visit that we will be able to resume safe cruising in the U.S. this summer," a Norwegian Cruise Line spokesperson told Alaska's News Source this week. "As such, we have opened for sale voyages on Norwegian Bliss to be scheduled for August until the end of the season."