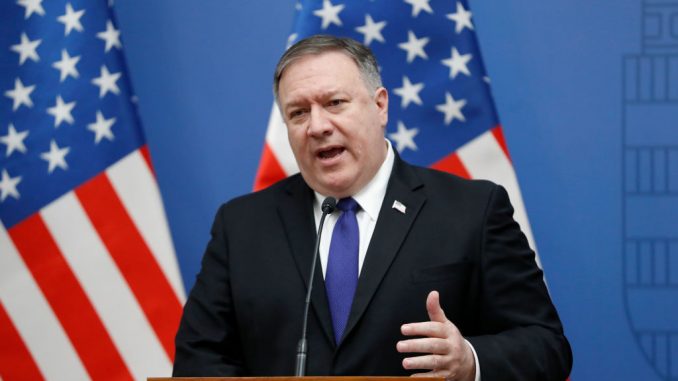 OAN Newsroom
UPDATED 2:16 PM PT – Monday, October 19, 2020
Secretary of State Mike Pompeo has issued a warning stating the U.S. will sanction any country that makes arms sales to Iran. His statement on Sunday noted any state that provides military assistance to Iran is contributing to its continued efforts to fund terrorist violence in the Middle East.
The warning came on the same day an arms embargo enacted by the U.N.'s Security Council against Iran expired. The sanctions were rolled back in accordance to the 2015 Iran nuclear deal , which the Trump administration pulled out of in 2018.
Pompeo argued Iran has failed to follow through on its commitments under the deal and a broader plan needs to be enacted. The secretary said other western countries agree with the U.S. on this point, but have refused to bring anything to the table.
"As for decisions other nations make, they're sovereign countries and they get to make their own choice, but…it is an enormous mistake not to extend this arms embargo, " he stated. "I haven't heard privately from any country that thinks it's wise…except for Iran."
No nation that desires a peaceful Middle East should contemplate arms sales with Iran – every weapon the regime buys will be at the disposal of its radical ideology. We are prepared to use domestic authorities to sanction individuals or entities contributing to these arms sales.

— Secretary Pompeo (@SecPompeo) October 18, 2020
Tehran has been connected to a number of sanction-breaking military conflicts, including the arming of Houthi rebels in Yemen. Although the regime has denied claims it armed the terrorist group, multiple western governments and organizations have linked firearms used by the rebels to Iran.
In August, a group of six gulf Arab nations, including the U.A.E. and Saudia Arabia, sent a letter to the U.N. Security Council calling for the sanctions to be re-imposed. In addition to the Houthi, the letter accuses Iran of arming Hezbollah in both Lebanon and Syria as well as various other militia groups across the Middle East.
Last year, U.S. intelligence officials predicted if sanctions were lifted Iran may try to purchase fighter jets, tanks and missile defense systems from Russia and may also look to China to buy arms.