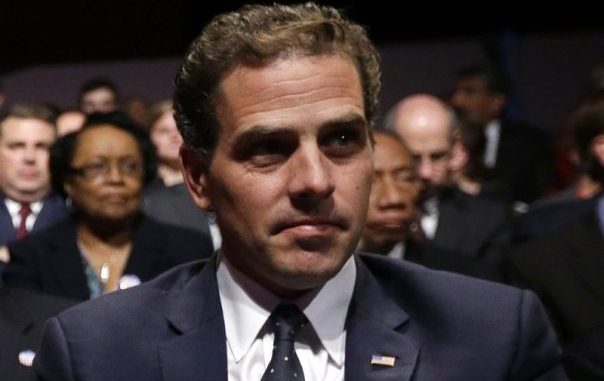 OAN Newsroom
UPDATED 10:58 AM PT – Monday, October 19, 2020
Director of National Intelligence John Ratcliffe has said Hunter Biden's laptop is not part of a Russian disinformation campaign. In an interview Monday, he called out Democrat House Intelligence Committee Chairman Adam Schiff for claiming such.
Ratcliffe stated the Intelligence Community does not believe Schiff's claims because there is no intelligence to support them. The Republican also has said the laptop is in the jurisdiction of the FBI and the Intelligence Committee has not been involved in the matter.
The emails in question detail Hunter's ties to corrupt Ukrainian oligarchs and Chinese officials who paid him for introducing them to his father when he was vice president.
Republican Sen. Ron Johnson (R-Wis.) fired off a letter to FBI Director Chris Wray, urging him to disclose if the agency is probing emails reportedly from Hunter's laptop.
Johnson has asked Wray to inform the panel if the agency has taken any action regarding those emails. The lawmaker also questioned what the FBI knew about Hunter and when they knew it, while noting it speaks to a "larger issue."
This comes as outrage surrounding the emails continues to grow.
"You have taken blood money," said former White House strategist Steve Bannon. "…blood money, Hunter Biden, to do your drugs and all your depravity."
Bannon has accused Joe and Hunter of stealing money from the people of China as well as Ukraine by aiding and abetting their corrupt regimes.
The Russians had nothing to do with the hard drive.

It came from an American citizen.

He was the repairman that a drunken Hunter Biden gave it to for repair.

Unlike the US Corrupt Media he was concerned by the obvious crimes it reveals concerning the #BidenCrimeFamily.

— Rudy W. Giuliani (@RudyGiuliani) October 19, 2020
Hunter tried to retrieve his laptop from a Delaware computer shop after the latest revelations broke of his corruption overseas, added Bannon. However, Trump attorney Rudy Giuliani has said the computer now belongs to that shop and to the American public.
"So it was now his property, according to the contract signed by Hunter Biden, which we have right here," Giuliani said of the shop owner. "Property that is abandoned, under the law, becomes the property of the person that's in possession of it."
Giuliani has also said the man who found Hunter's Ukraine emails told the FBI he was "really afraid" and "scared for his life." The former New York City mayor noted the man even gave copies of Hunter's hard drive to his friends in case he got killed.
"Hunter Biden's computer also contains photos that show illegal activities," Giuliani added. "In short what the photographs display is Hunter Biden, who is a very serious…degenerate."
Giuliani went on to say the FBI also has a copy of Hunter's hard drive along with his own legal team. The evidence of the Biden's corruption overseas is under review.
Meanwhile, both Bannon and Giuliani have claimed more evidence on the corruption scheme will be released in the coming days.