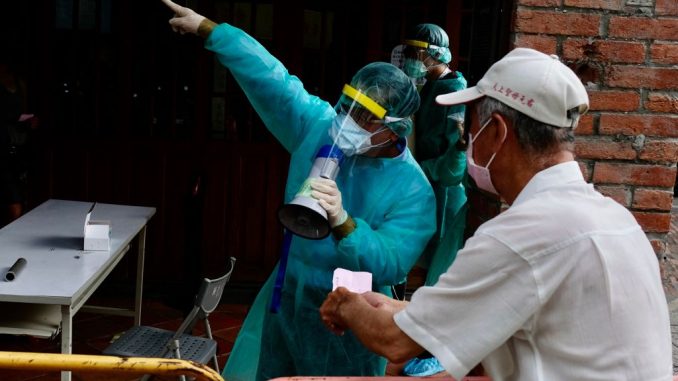 News Analysis 
After experiencing accelerating tensions and threats from the Chinese Communist Party (CCP) for months, Taiwan is now troubled with more unexpected emergent situations, namely its first significant local outbreak of COVID-19. While one commentator in Hong Kong said that the public in Taiwan should watch out for unrestricted warfare waged by the CCP, another former Taiwanese congressional assistant thinks that Taiwan is winning.
Sudden Surge in COVID-19
After being looked up to as a role model for its approach for dealing with the CCP virus pandemic, Taiwan suddenly experienced a surge in local cases.
As of May 20, there have been 2,825 confirmed cases and 15 deaths. Another 335 new cases were reported on Monday, setting a new record. 
Taiwanese health authorities said on Monday that nearly all the new cases on that day, 333, were the result of local transmission. Only two cases were identified as overseas arrivals. 
Taiwan also announced on Monday that from May 19 until June 18, the entry of non-Taiwanese nationals who do not hold a residence permit, including a residence visa, will be suspended. The transit of passengers to Taiwan will also be suspended.
In the meantime, Taipei City and New Taipei City have upgraded their epidemic alerts to level 3 from May 15 to 28. Restrictions have been imposed for many activities and industries. Residents are encouraged to stay home, gather less, go out less, and to wear masks whenever they go out.
Taiwan's stock market suffered a sharp fall of 1,630 points, or 10 percent, last Friday in response to the local transmission. The market plunged a further 3 percent on Monday before bouncing back about 6 percent on Tuesday and hovering at relatively lower levels the past two day.
Major Blackouts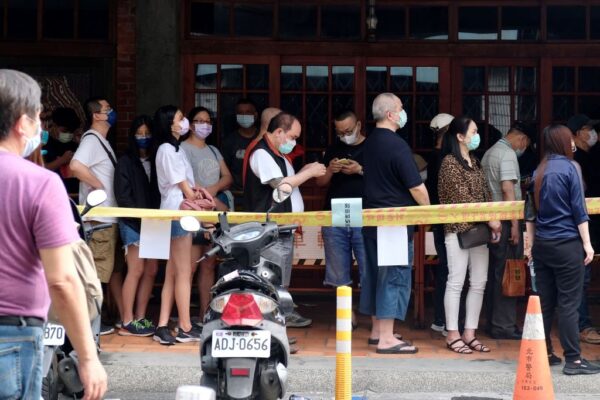 On Monday and last Thursday, Taiwan experienced two major blackouts within 5 days. During the outage on May 13, around 13 million households across Taiwan were affected. 
The power outage was blamed on a sudden accident at 2:37 p.m. at the Hsinta Power Plant in Kaohsiung. The accident caused the power plant to go into emergency shut down from 3 p.m., and power supply was not restored until 8 p.m.
On May 17, the plant again experienced equipment failure, causing another round of outages for 4.15 million households.
Two Smugglings in 5 Days
In addition, with five days, two men successfully smuggled themselves to Taiwan in rubber boats—one on April 30 and another on May 4. 
According to the Kinmen Coastal Patrol, at about 4:50 a.m. on May 4, radar operators found a suspicious light in the sea north of Kinmen and detected a person onboard the irregular operating vessel using infrared. Inspectors then seized from the vessel a 20-year-old man surnamed Jiang from China. 
The man claimed to be from Guangxi and said he had bought a rubber boat on the Internet and sailed from Xiaodeng Island to Kinmen. 
"I just want to come," the man said of his attempt to enter Taiwan illegally. The Taiwanese authorities are still investigating the man's motives for his smuggling attempt.
Five days earlier, on April 30, a mainland man surnamed Zhou also smuggled himself to Taiwan in a military-grade rubber boat with an outboard motor. He claimed that he had set out from Fujian, China.
His trip to Taiwan was unhindered, going undetected by both Chinese and Taiwanese navy, sea patrol, and shore patrol. He was only found by Taichung port workers and reported to the police two hours after disembarking.
The fact that Zhou could sail to Taiwan without being found or caught has caused concern over Taiwan's national security. 
Yao Cheng, former commander of the CCP's Naval Command, told NTDTV's Focus Talk that he thinks the two "smuggling" cases are very suspicious—especially the first one. 
Cheng said that right now, because of the highly tense situation in the Taiwan Strait, both the CCP and Taiwan have increased patrol of their coastlines. As a former navy commander, he could hardly imagine that anyone could leave the Chinese coast and sail to the sea without being caught by the CCP's patrol boats. 
Also, the first smuggler is from Sichuan province, an inland province. It would be unlikely for him to have experience sailing alone at sea. It is hard to believe that without a compass, he could rely solely on his cell phone to reach Taiwan. 
Jiang Feng, a popular Chinese language YouTuber who has 753,000 subscribers, said in his show that he suspected the CCP sent the two "smugglers" to "test the water," and to collect hydrology information near the coast of Taiwan, in preparation for a future invasion.
Taiwan Winning Despite Beijing's 'Unrestricted War'
About the series of events, Tony Choi, a commentator in Hong Kong said on his May 13 show that he had received exclusive information that it was highly possible the CCP was waging "unrestricted war" against Taiwan. 
He said that during a secret meeting between the CCP's United Front Work Department and the Taiwan Affairs Office, it was suggested that "Taiwan should be dealt with and taught with any means possible."Choi warned the Taiwanese government and the public to be vigilant because the CCP has no bottom line.
Hsiao-Hui Chao, host of "The Truth Talker Economic Forum,", a former Taiwanese congressional assistant, and senior financial reporter, told The Epoch Times that although the CCP has indeed waged unrestricted warfare against Taiwan for many years, Taiwan is still winning.
She said that although this wave of COVID-19 outbreaks struck suddenly, the public in Taiwan has demonstrated a high degree of discipline and behaved very rationally. People started to stay home out of their own initiative, and also tried to help one another. The government has been transparent about the situation, and new case numbers are going down numbers peaked on Monday. She believes Taiwan can continue to do well.
As to the unrestricted warfare, Chao said that the CCP has been trying hard to infiltrate Taiwan and spread misinformation to divide Taiwan internally.
However, in recently years, both the government and the public have become more vigilant, and it is not that easy to confuse Taiwanese people any more.
Chao doesn't think the CCP has the ability to invade Taiwan by force. "Otherwise, why hasn't the CCP done it already?"
She thinks that, while the Chinese economy has been declining in recent years and China is actually still suffering from the CCP virus, Taiwan has been rising and is attracting more international investment. Because Taiwan shares the same values as the free world, the United States, European countries, and Japan all feel more comfortable working with Taiwan and buying products made in Taiwan.
She also hopes that the U.S. government can be more aggressive in cleaning up the CCP's infiltration of the US, instead of just passively responding to the CCP's expansion.
Julia Ye contributed to this report.