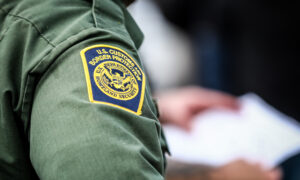 Border patrol officers arrested 32 Mexican nationals who disguised themselves in camouflage and illegally crossed the Arizona-New Mexico state line, authorities announced on May 21.
Interim Chief Patrol Agent for the Tucson Sector John Modlin said the illegal immigrants were trying to blend in with the surrounding vegetation in an effort to disguise themselves.
"The Douglas Station's #Horse Patrol Unit arrested a group of 32 migrants after illegally crossing the border," Modlin announced on Twitter. "The 32 Mexican Nationals utilized camouflage clothing to blend into the surrounding vegetation."
Modlin shared a photo of the group of Mexican nationals surrounded by border agents on horses while a helicopter hovered above them.
It comes after Modlin announced that 124 migrants had surrendered to border patrol agents near San Miguel, Arizona, on the morning of May 17. 
The interim Chief Patrol Agent noted that while the majority of those apprehended by the Tucson sector this fiscal year were single adults, this particular group contained 105 unaccompanied children.
Border crossings have been rising steadily in recent months.
Last week, Border Patrol agents in Texas discovered 20 migrants, including two children, crammed into a pickup truck and cargo trailer during a stop at a checkpoint on Interstate 10 near Sierra Blanca. Agents said there was no ventilation or space to move freely.
On Monday, a suspected smuggling boat carrying nearly two dozen illegal immigrants had to be intercepted by the U.S. Coast Guard after it got stuck in kelp off the coast of Southern California.
Border Patrol agent Shane Crottie told local outlet KPBS that everybody was able to get out safely and the occupants were taken into custody.
"There were 23 individuals on board—20 Mexican nationals and three Guatemalan nationals. The United States Border Patrol took custody of the individuals after Coast Guard brought them ashore," Crottie said, adding that the individuals were taken to a facility for processing.
President Joe Biden's administration has also committed to processing about 250 asylum seekers a day through border crossings with Mexico as part of negotiations to settle a lawsuit over pandemic-related powers that deny those arriving at the border a right to apply for asylum, an attorney said Monday.
Those eligible would be exempted from the Title 42 policy, previously enacted by former President Donald Trump to prevent illegal immigrants from entering the United States during the pandemic and to expel those that did manage to enter and were caught. The Biden administration after taking office in January rolled back use of Title 42, allowing all unaccompanied minors to stay in the country and significantly decreasing the number of family units expelled under the order.
In April, more than 178,000 immigrants were stopped at the U.S.–Mexico border, marking a 21-year high in monthly apprehensions, according to figures published by Customs and Border Protection (CBP).
Of those encountered, over 13,000 of them were unaccompanied minors.
The number of monthly encounters was up slightly from March, in which CBP encountered just over 173,348 immigrants crossing into the United States from the border with Mexico.
However, Tucson Sector officials warned migrants not to cross the desert in Arizona in a news briefing last week, saying the conditions are dangerous.
"The desert is vast and it's treacherous, when you cross illegally you put your life in incredible peril," Sabri Dikman, acting deputy chief patrol agent, said at the time. "I'm telling you this not only as a Border Patrol agent, but as one who spent his entire 23-year career in Arizona. I speak from experience."
Zack Stieber contributed to this report.