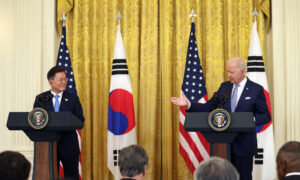 President Joe Biden on Friday announced he will appoint career diplomat Ambassador Sung Kim as a special envoy to North Korea as the United States and South Korea affirmed their shared commitment to engage diplomatically with the rogue nation to end its nuclear program.
Biden made the announcement at a joint press conference with South Korean President Moon Jae-in, saying both countries were "deeply concerned" and had agreed to work together to take "pragmatic steps that will reduce tensions."
He made these comments in the East Room of the White House after bilateral talks with Moon that spanned the Indo-Pacific, China, climate change, and COVID-19, the disease caused by the the CCP (Chinese Communist Party) virus.
"Our partnership is founded on our iron-clad commitment to shared security," Biden said. "Our alliance has long been a linchpin to peace, security, prosperity, and the region growing more prominent, and us being together."
The U.S. president said the talks had affirmed the two countries "shared history of sacrifice" and served to expand cooperation as they shaped their shared futures in accordance with democratic values that made the United States strong, agile, and competitive.
Biden described the 70-year alliance between the United States and South Korea as essential for the future of the Indo-Pacific region and the world.
"The U.S.-ROK partnership extends beyond the goals of the peninsula," Biden said, using South Korea's formal name. "They address issues of regional and global concern through stronger cooperation with partners in the region, including the ASEAN, the Quad, and trilateral cooperation with Japan."
The ASIAN is an economic union comprising 10 member states in Southeast Asia, and the Quad is an informal strategic dialogue between the United States, Japan, Australia, and India.
Moon's visit marked the second visit of a head of state to the White House, after Japanese Prime Minister Yoshihide Suga in April.
"Korea will closely work with the U.S. to achieve complete denuclearization and establish permanent peace on the Korean Peninsula," Moon said.
"Although tricky challenges lie ahead of us, as allies that share core values, our two countries will actively work together to address global challenges such as COVID-19, economic recovery, and climate change. And we will usher in a new era," he said.
When asked, Moon said Biden did not pressure him to take a tougher stance on China's posturing toward Taiwan. "But as for peace and stability in the Taiwan Strait, we agreed how important that region is. Especially considering the special characteristics between China and Taiwan, we decided to work more closely on this matter going forward," Moon said.
The South Korean president also attended a ceremony where Biden presented a Congressional Medal of Honor to a Ranger in his mid-90s for his acts of bravery in Korea during the Korean War. Moon personally congratulated the veteran, Biden said.