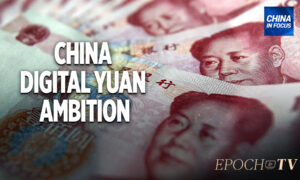 In this special report, we discuss China's ambition to dominate the global monetary system. The Chinese regime is speeding up its plans for digital currency, a cross-border payment system to push the use of the Chinese yuan for global trade.
It's all part of a bigger plan to challenge the U.S. dollar and eventually push the Chinese yuan to dominate the global monetary system.
But what will it mean for the world? When transaction data ends up in the hands of an authoritarian regime known for its surveillance state and strict control over its people?
Tune into this special report, where we explore how the Chinese regime is forcing its currency onto the global stage—and what risks it could pose to the world economy.
Stay tuned for our newsletter so you won't miss out on our exclusive videos and private events. 
Subscribe to our YouTube channel for more first-hand news from China.
For more news and videos, please visit our website and Twitter.