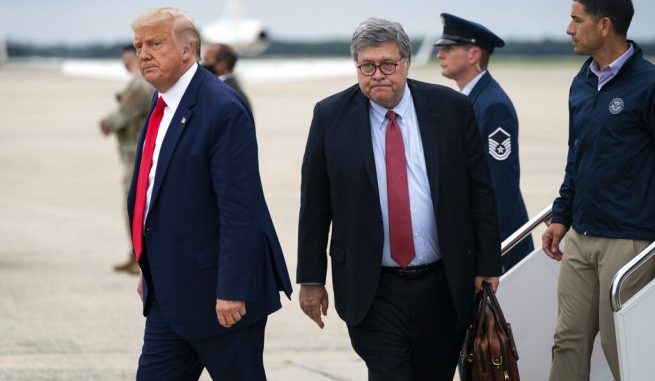 OAN Newsroom
UPDATED 11;09 AM PT – Thursday, September 10, 2020
Attorney General William Barr has remained quiet on the details of John Durham's probe, but said he won't rule out further criminal charges.
Barr suggested "there could be" more charges in connection with the Inspector General report during an interview Wednesday. He refused to comment if the report was coming before the election or if there would be an interim report before that time.
The attorney general acknowledged some people could accuse an interim report of trying to influence the election, but said he'll do what's right in the public interest.
"As I've already said, I'm conscious of the election and I don't think any of the things that are being worked on are going to have an adverse effect on that," he stated. "I also think there's strong public interest involved as well."
Durham investigation disappoints and Left's radical vote by mail push could disenfranchise millions. @LouDobbs @JudicialWatch @RealDonaldTrump
https://t.co/MaDodHzA87 https://t.co/JmhJo4G9Pu

— Tom Fitton (@TomFitton) September 3, 2020
Last month, Barr said there were "significant developments" in the Durham probe. Former FBI lawyer Kevin Clinesmith pleaded guilty to falsifying an email, which marked the first criminal case to come out of the probe.