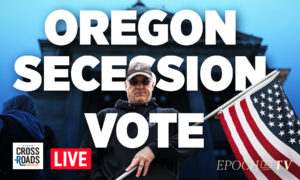 Live Q&A: Oregon Counties Vote to Secede Into Idaho; Israel and Hamas Agree to Ceasefire
Several Oregon counties voted to consider seceding to Idaho in a May 18 vote, in a move they claim is about a judgment on lifestyle and values. And in other news, Israel and Hamas have agreed to a ceasefire. In this live Q&A with Crossroads host Joshua Philipp we'll discuss these stories and others, and answer questions from the audience.
We're being heavily censored by Big Tech. Our solution? Create our own independent platform free of censorship.
Join us today on EpochTV. We've got a country to save: http://epochtv.com/Crossroads