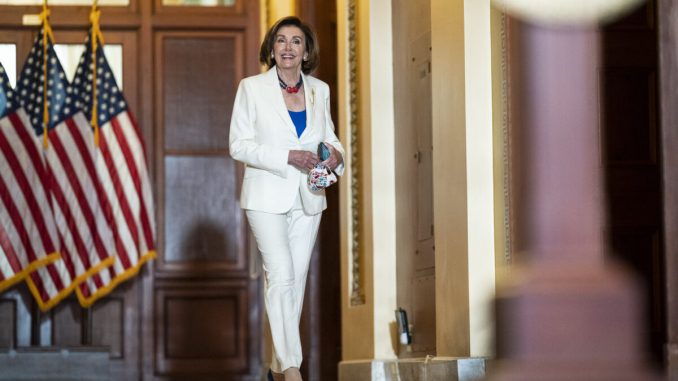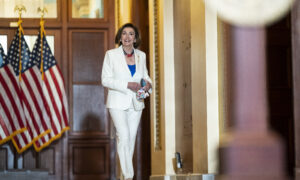 House Speaker Nancy Pelosi (D-Calif.) suggested on Friday that Republicans who do not get vaccinated for the CCP virus and defy her mask mandate may be prevented from entering the floor of the House of Representatives and have to cast their votes in a dedicated space in the House gallery.
Pelosi made the remarks during her weekly press briefing in response to reporters' questions about the ongoing mask rebellion by some House Republicans who have removed their face coverings after the Centers for Disease Control and Prevention issued guidance saying that fully vaccinated people no longer have to wear masks indoors.
"We have to wait for them to be vaccinated because they are selfishly [an] endangerment to other people, including staff people here," Pelosi said. "An honor system as to whether somebody's been vaccinated? Do you want them breathing in your face on the strength of their honor?"
"We could come to a place where we say, 'If you don't want to wear a mask and you don't want to—if you're not vaccinated, don't even come to the floor. We have facilities up above in the gallery where people can come to vote," she added.
Pelosi said that some Republicans have either not been vaccinated or chosen to not disclose their vaccination status.
After the CDC guidance, Pelosi did not change the stringent House mask rules, prompting backlash from the GOP. Minority Leader Kevin McCarthy (R-Calif.) led an effort Wednesday to get the Office of the Attending Physician to update its guidance for mask-wearing for vaccinated lawmakers and staff while they are in the House chamber and in committee hearing rooms. But Democrats defeated it along a party-line vote of 218-210.
Lawmakers can remove their masks when speaking on the House floor but otherwise must keep it on when they are in the chamber. There is no requirement for wearing masks in the Senate chamber.
"This is about science and governance," Pelosi said. "We have to make sure that the House of Representatives chamber is not a petri dish because of the selfishness of some not to be vaccinated because it requires us to wear a mask."
Democratic lawmakers say they are tired of the requirements, too, but they worry that some of their Republican colleagues have declined to be vaccinated and could spread the virus.
Some GOP lawmakers opted to go without a mask during votes Tuesday, with a few taking particular care to stand in the well of the chamber to ensure that spectators, colleagues, and C-SPAN's cameras could not miss them.
Their defiance could come at a financial cost. Lawmakers who refuse to wear masks are subject to a fine of $500 for the first offense. Subsequent offenses can result in a $2,500 fine. In practice, however, the House sergeant-at-arms is providing a warning for the first offense.
The Associated Press contributed to this report.