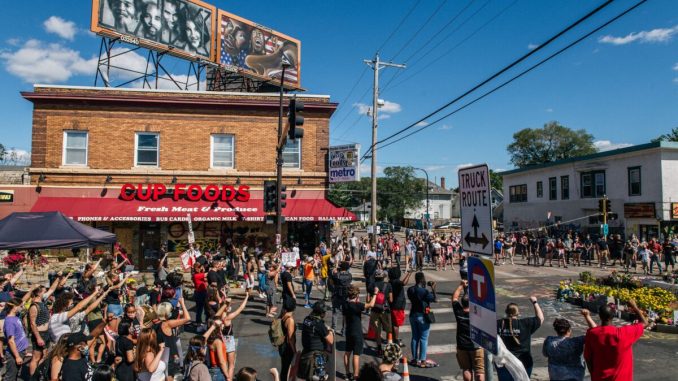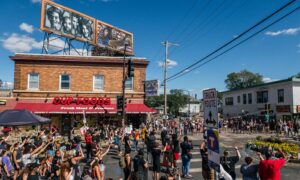 A man was seen on camera using an axe to damage barriers and property at George Floyd Square—which activists have called an occupied protest site—in Minneapolis over the past weekend.
However, the incident has not yet been reported to police, officials told the Minneapolis Star Tribune.
"If there was a report, we absolutely would investigate," Minneapolis Police spokesman John Elder said Wednesday about the video. Elder also said the department is not intentionally ignoring reports of vandalism at the site, located where Floyd died last year—sparking nationwide riots and protests.
"We don't use our services as a tool to act out against people who don't like us," he said.
Local activists told the Star-Tribune that the incident, which she described as vandalism, occurred at 2 a.m. at 38th and Chicago streets.
"This was particularly upsetting that this would happen after the historic trial and the upcoming memorial," said LaToya Evans, a spokeswoman for a group involved in the protests, adding that it is an "unfortunate act of vandalism."
Video of the incident was apparently uploaded on several social media accounts, showing a male arriving in a truck before he is seen tearing down signs and tossed items out of a shed. He is then seen retrieving an axe before hitting the shed.
The man then returns to his vehicle and speeds away.
After Floyd's death on May 25, 2020, the area has been used as a memorial and a place where Black Lives Matter protesters and organizers congregate. Some have criticized it as being akin to a so-called "autonomous zone," similar to the Capitol Hill Occupied Protest—or Capitol Hill Autonomous Zone—that was set up in Seattle last summer. In one instance last year, a 16-year-old boy was shot and killed, leading to the zone's eventual dissolution.