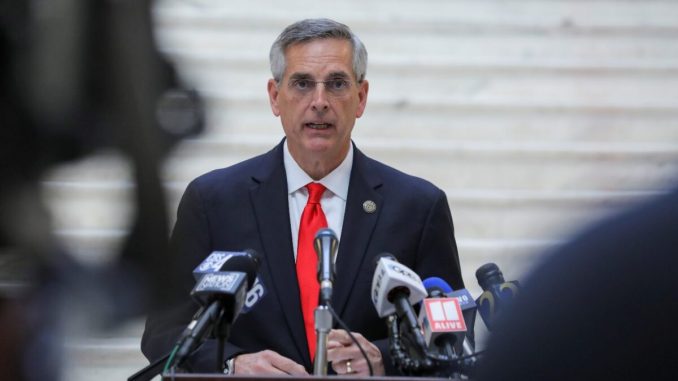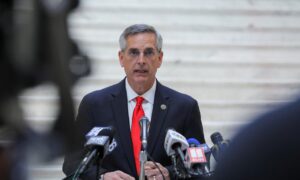 Republican Georgia Secretary of State Brad Raffensperger confirmed that he will be running for reelection next year.
"I still enjoy the job and, yes, I'm running again," Raffensperger said on Tuesday during a speech before the Rotary Club of Gwinnett County, The Atlanta Journal-Constitution reported.
He will have to contend with another primary challenger, Rep. Jody Hice (R-Ga.), who has been endorsed by former President Donald Trump.
Raffensperger faces disapproval from the GOP over his handling of the presidential election and a call with Trump that was leaked to the press.
During the Jan. 2 call, Trump told Raffensperger in reference to the election: "I just want to find 11,780 votes."
President Joe Biden won the state by the narrow abovementioned margin. Trump also maintained in the phone call that "We won by hundreds of thousands of votes"—which was challenged repeatedly by Raffensperger's team, drawing discontent from Trump.
Raffensperger then suggested that the call was leaked to The Washington Post from his office.
"It was a private conversation. [Trump] broke privacy when he put out a tweet, but then his tweet was false," Raffensperger told WXIA at the time.
"If President Trump hadn't have tweeted out anything and would've stayed silent, we would've stayed silent as well. And that would've just been a conversation between him and I, man to man, and that would've been just fine with us. But he's the one that had to put it out on Twitter," he said.
Trump's lawyer Kurt Hilbert condemned the leak, saying "we are disappointed that the secretary of state and his staff secretly recorded and released a confidential settlement discussion."
The full transcript of the call that later emerged showed that before Trump said he wanted to "find" the 11,780 votes, he had asked election officials to look into a number of specific claims of election irregularities—something he had been saying publicly for weeks, prior to the call.
Raffensperger insists that he has preserved the rule of law and that his stance has met with agreement from "commonsense Republicans."
"Commonsense Republicans like the stance that I took because they know they're based on the truth, they're based on the law and they're based on integrity," he told The Hill last month.
"The election results will be the election results. Candidates have to learn that when they lose, to just accept their defeat and move on," Raffensperger said.
The Epoch Times reached out to Jody Hice for comment.
Mimi Nguyen Ly contributed to this report.