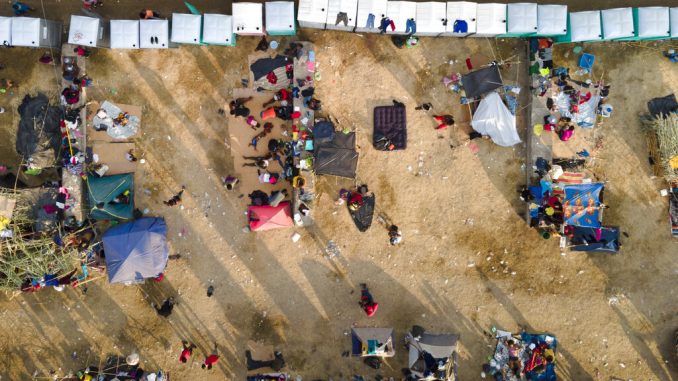 OAN Newsroom
UPDATED 9:27 AM PT – Tuesday, September 21, 2021
The Biden administration is scrambling to respond to the growing crisis at the southern border.
On Monday, Secretary of the Department of Homeland Security Alejandro Mayorkas took a trip to Del Rio, Texas to meet with officials over the influx of Haitian migrants flooding the city. The official stressed that several federal, state and local agencies are coalescing to bring the illegal immigrants back to Haiti.
"Border Patrol is coordinating with ICE and the U.S. Coast Guard to move individuals from Del Rio to other processing locations, including approximately 3,500 over the last few days and 3,000 today," Mayorkas stated. "In order to ensure that migrants are swiftly taken into custody, processed and removed from the United States, consistent with our laws and policies."
The rush to the border comes as border agents reported more than 12,000 Haitian and other illegal immigrants setting up makeshift camps under the Del Rio International Bridge last week. Since then, U.S. Customs and Border Patrol has deployed 1,000 border agents to the bridge to help get Haitian migrants to processing centers and repatriation flights.
Secretary Mayorkas believes the migrants are being misled about the U.S.'s border policies, especially when it comes to Temporary Protected Status.
"Only Haitians living in the United States before July 29 are eligible for Temporary Protected Status," he stated. "We have reiterated that our borders are not open and people should not make the dangerous journey."
Additionally, Mayorkas issued a dire warning to those trying to illegally cross into the U.S. by saying the administration won't allow it.
"If you come to the United States illegally, you will be returned," he continued. "Your journey will not succeed and you will be endangering your life and your family's lives. This administration is committed to developing safe, orderly and humane pathways for migration, but this is not the way to do it."
In the meantime, the DHS's deportation efforts are reportedly causing hundreds of Haitian migrants to flee to Mexico. Secretary Mayorkas is calling on other agencies, including the Department of Defense, to help relocate the remaining migrants.