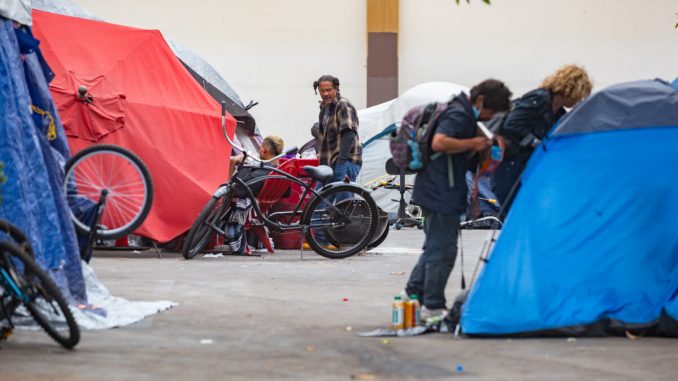 The City of Santa Ana is planning to remove a homeless encampment after a contract was violated by a non-profit that previously agreed to clear the space.
El Centro de Cultural de Mexico, an 837 N. Ross St. cultural center, has been allowing at times more than 40 homeless people to sleep on its parking lot since early 2020. The encampment has sparked concerns among nearby residents and businesses, who've complained about trash, noise, and excrement being left in alleys.
The center on March 17 signed a contract with the city, agreeing to clear the space within 45 days. In exchange, the city agreed to provide on-site portable toilets, a wash station, and two intensive outreach events to encourage the homeless to go into a shelter, which it did. The city was also willing to forgive the $1,800 in encampment-related fines El Centro had incurred since last May.
Despite the April 30 deadline passing, El Centro has not yet removed the encampment from its land, with approximately 30 people remaining.
"During the outreach events, the city partnered with several health and social service organizations to provide COVID-19 testing and vaccines, social services, medical care, legal assistance, and other aid," Santa Ana spokesperson Paul Eakins told The Epoch Times.
"Unfortunately, the majority of those living there declined offers of shelter, and El Centro allowed the number of people living on its property to grow, which is in violation of the settlement agreement."
Due to a violation of the agreements of the contract, the city has obtained an abatement order from a judge that allows Santa Ana police visit the property and clear the unpermitted encampment, Eakins said.
The cultural center has claimed the city has not provided enough shelter space, though Eakins said this is untrue.
"There have been shelter beds available and there still are shelter beds available," Eakins said. "In fact about 17 people from the site did accept shelter and were moved into shelter beds. However, many of the other people that are living on the property did not want shelter and declined to take shelter. So we do have shelter beds available, and if other individuals living there did want shelter beds, we would have space."
Eakins could not say when the city is looking to execute the powers of the abatement order.
The $1,800 in fines the cultural center incurred will now stand, since it violated the terms of the contract, Eatkins said.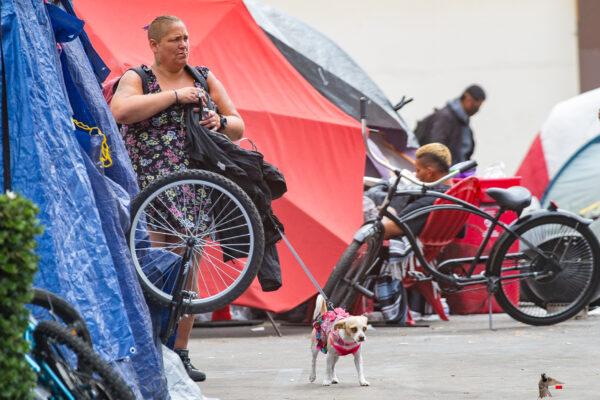 Santa Ana Councilmember Nelinda Mendoza told The Epoch Times she sees the issue as a tough problem that will take the entire Orange County community to solve.
"I don't see it as putting blame on anyone. It's a social issue that we need to work together to resolve," Mendoza said. "The issue here with El Centro Cultural, it's understandable that they're trying to help in having a safe space for really unfortunate homelessness, but it's gotten out of hand, because not all the homeless people are well intentioned. The businesses around that area, they're suffering. There's vandalism, there's excrement around their properties and it's driving away their clientele."
The city had no choice but to move forward with the abatement order, she said, because without stepping in the issue would worsen.
Mendoza said that one of the bigger issues is that some of the homeless people are not willing to go into shelters because of the strict rules they impose.
"Some of these homeless people do not want to be in a shelter because there's rules to follow," she said. "There's absolutely no drug use, and many of the homeless have already fallen into being victims of drugs. And then at this point, they don't want help, they want to continue to use the drugs and so they would prefer to stay up there and homeless encampments, to be able to continue to do the drugs.
"I hope that they will realize that they can get the help to kick the habit. And to continue a life that has protection for them because it's dangerous. It's dangerous to be out there, among the homeless people, there's abuse and violence. And so we don't want that to happen."
El Centro de Cultural de Mexico did not respond to a request for comment for The Epoch Times.