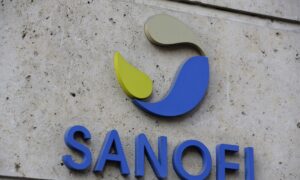 Vaccine candidate previously triggered an 'insufficient response' in older adults
A COVID-19 vaccine produced in a partnership between Sanofi and GlaxoSmithKline showed strong results in a new trial, the companies announced on Monday.
Interim results from a phase two trial showed development of antibodies against the CCP (Chinese Communist Party) virus in 95 to 100 percent of volunteers, who ranged in age from 18 to 95.
"With these favourable results, we are set to progress to a global Phase 3 efficacy study. We look forward to generating additional data and working with our partners around the world to make our vaccine available as quickly as possible," Thomas Triomphe, executive vice president and head of Sanofi Pasteur, said in a statement.
"These positive data show the potential of this protein-based adjuvanted vaccine candidate in the broader context of the pandemic, including the need to address variants and to provide for booster doses," Roger Connor, president of GSK Vaccines, added.
The trial involved 722 volunteers in the United States and Honduras, with roughly equal numbers of adults in two age groups: between 18 and 59 and 60 and older. Volunteers were given two injections 21 days apart, with antigen dose levels ranging from five to 15 micrograms.
U.S. government money helped fund the study.
Full results will be published in a peer-reviewed journal, Sanofi and GlaxoSmithKline said.
The companies reformulated the vaccine candidate last year after interim results from a combined phase one/two trial showed it triggered an "insufficient response" in older adults, one of the groups most at risk from COVID-19 of severe disease or death.
They said at the time they would start a phase two trial in February 2021.
The vaccine is not expected to be ready until the fourth quarter.
The upcoming phase three trial will enroll more than 35,000 adults from a variety of countries. It will be randomized and double-blind and test against some CCP virus variants.
Many COVID-19 vaccines authorized in countries around the world so far use messenger RNA or a modified virus delivery system. In contrast, the Sanofi-GSK shot utilizes a copy of the CCP virus spike protein as the antigen, which helps the body recognize and fight off the virus if a person becomes infected.
European Commission President Ursula von der Leyen told reporters last month that protein-based COVID-19 vaccines have "quite a potential" and could be added to the commission's stock of authorized jabs.
Fifteen COVID-19 vaccines have received emergency authorization or approval in at least one country, according to the Regulatory Affairs Professionals Society, with another 57 in varying stages of development. About a dozen are in late-stage trials, including shots from CureVac/GSK, the Center for Genetic Engineering and Biotechnology, and Vaxxinity.