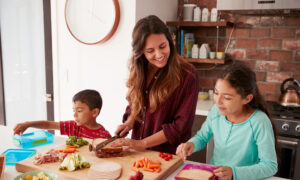 When Dr. Dene Schulze-Alva first started homeschooling her children six years ago, she wasn't aware of the amount of research it would require to be a successful parent educator.
"It's a huge shift in time because you're 100 percent dedicated to learning where and what the resources are," Schulze-Alva said. "That's the initial challenge."
Once Schulze-Alva found other parents and homeschooling families to network with, the licensed chiropractor began to exchange ideas and learn what resources are available locally in California for her two daughters, who are 8 and 13 years old.
"It's become easier and easier," she said in an interview. "The most beautiful thing about homeschooling is that you learn alongside your child."
Schulze-Alva is among the 5.4 percent of parents who were homeschooling school-aged children before COVID-19, according to the US Census Bureau. That number has since doubled to 11.1 percent of households at the start of the 2020–2021 school year, amid the pandemic.
"We were very cautious about the pandemic, but the lives of our children did not dramatically change," Schulze-Alva said. "There were plenty of families still willing to have their children get together and play. There were plenty of homeschool supplemental programs that continued without skipping a beat, which was very different from public schools."
An Increase
Some 40 percent of families are more likely to homeschool or virtual school their children after coronavirus lockdowns end, according to a national poll of registered voters by RealClear Opinion Research.
"Every single family with kids in school has been incredibly disrupted by the lockdowns," said John Schilling, president of the American Federation of Children, a school choice advocacy group. "Families are clearly considering new options and many are seeing the benefits of homeschooling and virtual schooling."
Renita Bentz-Miller, who began homeschooling her eight children 18 years ago along with her husband, has seen homeschooling grow by leaps and bounds in San Antonio, Texas, where she resides with her family.
"It used to be that we were the only homeschoolers that anybody was aware of, and now I rarely meet anyone who doesn't know somebody, if not themselves, that is homeschooling or has homeschooled," Bentz-Miller said in an interview.
In addition to the time it takes to research, challenges of homeschooling include finances, educating multiple-aged siblings, staying organized, and teacher burnout.
Two of Bentz-Miller's children are attending university and her eldest, who is 23 years old, graduated from college in 2020 with a double major in international business and accounting.
"Mainly we homeschool because of our faith," Bentz-Miller said. "We choose curriculums that are faith-based. In addition to teaching faith-neutral math and English, we teach from a Christian worldview and from a Creation science point of view. We look at history through the lens of what God has been doing through time and civilization."
Challenges
One of the challenges that Bentz-Miller has faced in homeschooling her children is managing the household on one income while she stays home and teaches their children.
"We made choices early on to limit our lifestyle so that we could put our resources into homeschooling the kids," Bentz-Miller said. "We don't have a lot of family vacations. We don't drive new cars. Currently, my husband and I are operating a home-based business that allows us the flexibility to be here and be at work."
She's currently homeschooling five children, aged 11 to 17 years old, and the challenge is teaching multiple-aged siblings simultaneously.
"We try to have a one-room schoolhouse approach where we all do as much together as we can with the younger children being done first with the history and science worldview topics," Bentz-Miller said. "They then work independently while I work with some of the older kids. The goal is to do as many subjects together as you can, and to help your children become independent learners as soon as you can."
Christa Campbell, who has been homeschooling her 15- and 12-year-old daughters, Olivia and Dexie, for six years, withdrew her children from public school in Orange County in response to the California legislature approving a bill that precluded anyone with a philosophical objection to vaccinations from attending public school.
"We were grandfathered into that plan, but I chose not to remain because the second factor that had been growing in the last three years of public schooling was that I could feel and sense the encroachment of the public school into our family," Campbell said in an interview.
Despite the challenges, Campbell appreciates the liberty and cohesiveness that homeschooling creates for her family.
"We have the freedom and time to focus on strengths and work on weaknesses," she said. "The girls have the opportunity to attend college-level classes as high-schoolers. We have the freedom over our own time, as we are not bound to the demands of the public school. It's ridiculous that I needed permission to sign my child out early or that an unexcused absence could result in legal action. My daughters are developing into free thinkers. With social media now dictating mob think, public school is like a cauldron of emotionally charged ideas being pushed into society ("wokeism") where nonconformity will get you labeled as a racist, sexist, homophobe, ableist, etc."
Campbell uses lists, calendars, and schedules to stay organized as she teaches.
"With the girls getting older, the three of us are getting things done by working together to come up with schedules that we are all in agreement with and that work for all of us," she said.
Campbell added that when teaching her daughters leads to burnout, she reaches out to one of her mentors for a boost.
"I know a few women who have gone before me whose children are grown, who I call on for support," she said. "That really helps me to reprioritize and refocus on what's important and why I'm doing it."
Juliette Fairley is a graduate of Columbia University's Graduate School of Journalism. Born in Chateauroux, France, and raised outside of Lackland Air Force Base in Texas, Juliette is a well-adjusted military brat who now lives in Manhattan. She has written for The New York Times, The Wall Street Journal, TheStreet, Time magazine, the Chicago City Wire, the Austin-American Statesman, and many other publications across the country.