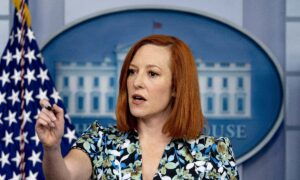 The Biden administration again reiterated that the federal government won't implement or support a so-called COVID-19 "vaccine passport" system, suggesting the matter will be left to businesses.
On Monday, White House press secretary Jen Psaki told reporters that the federal government's view has not changed on such a system after she said last month that the administration wouldn't support the passports. Vaccine passports have been criticized by Republicans, civil liberties groups, and the World Health Organization for a variety of reasons.
"It has not changed our view that the federal government will not be playing that role," Psaki said in response to a question about the matter. "The private sector may, and it may prompt the private sector moving forward on actions, which is where we think it is appropriately situated."
Her comments came in the backdrop of the U.S. Centers for Disease Control and Prevention (CDC) easing guidance on vaccinated individuals wearing masks indoors or outdoors in most circumstances, although CDC Director Rochelle Walenksy later told reporters that the agency recommends children—who aren't vaccinated—wear the masks in public settings.
"Wear a mask if you are not vaccinated, that applies to kids," Psaki told reporters on Monday, echoing Walenksy's remarks. "If you are vaccinated, you no longer need to wear a mask."
"We know people are digesting this, we've all been wearing masks for 14 months," she said. "Different companies, different organizations, different communities are going to implement based on a range of factors, including vaccination levels, cases—we should all respect that."
Vaccine passports, meanwhile, have been implemented in New York state and parts of California. Earlier this year, New York rolled out its "Excelsior" app that could be potentially used at sporting events and other places, although its usage appears to be sparse.
Several countries, including Cyprus and Israel, have introduced vaccine passports for things as simple as going to the supermarket or gym.
The American Civil Liberties Union (ACLU) noted in an article that there "is a lot that can go wrong" with such systems and could potentially imperil individuals' privacy.
"We don't oppose in principle the idea of a requiring proof of vaccination in certain contexts," the group wrote on March 31. "But given the enormous difficulty of creating a digital passport system, and the compromises and failures that are likely to happen along the way, we are wary about the side effects and long-term consequences it could have. We will be closely watching developments in this area."
COVID-19 is the illness caused by the Chinese Communist Party (CCP) virus.