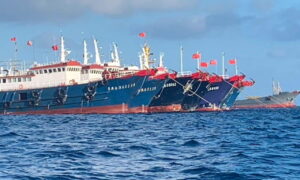 The Philippine military plans to transform its Thitu Island as a logistics hub to facilitate sovereignty patrols and upgrade monitoring around its waters amid the Chinese regime's aggression in the South China Sea.
The announcement came after some 220 Chinese vessels were moored at the disputed Whitsun Reef on March 21. The boats were "taking shelter from the wind," Chinese foreign ministry spokesperson Hua Chunying said at a press conference on March 22.
The Philippine Armed Forces Chief of Staff Gen. Cirilito Sobejana revealed that some of the Chinese vessels still remain at Whitsun Reef, which is claimed by the Philippines, China and Vietnam.
The latest report says 287 maritime militia vessels from China invaded the Philippines' exclusive economic zone (EEZ) on May 12.
Sobejana said in an exclusive interview with CNN Philippines on May 10 that the Philippine military is planning to turn Thitu Island into a logistics hub and to set up high resolution and night vision closed-circuit television cameras for better monitoring.
Thitu Island (also known as Pag-asa Island), which lies about 298 miles (480 km) west of the country's Puerto Princesa, is the second largest of the naturally occurring Spratly Islands and the largest of the Philippine-administered islands.
With that logistics hub, Sobejana said, their navy ships wouldn't have to go a long way to return to the port in Puerto Princesa, Palawan, to refuel and get supplies.
At least 10 navy ships have been deployed to conduct sovereignty patrols and monitor the West Philippine Sea, based on the orders of the Department of National Defense (DND), Sobejana revealed.
The Philippine government designated the West Philippine Sea as the eastern parts of the South China Sea and it is part of the country's EEZ.
Additionally, Delfin Lorenzana, the defense secretary of the Philippines, expressed on May 6 that the Philippine Air Force (PAF) is in urgent need of more multirole combat aircraft amid the deteriorating regional situation, according to Philippines News Agency (PNA).
"We are pushing for the acquisition of multirole fighter aircraft as it is [a] critical capability for the defense of our country's territorial airspace from any form of threat and enforcement of the Philippine Air Defense Identification Zone or ADIZ," Lorenzana said in a speech during an air defense drill held in Basa Air Base, Floridablanca, Pampanga on May 6.
The DND is planning to acquire at least 12 multirole fighter units to strengthen the PAF's air defense capabilities, PNA reported.
For years, territorial disputes over contested waters in the South China Sea have challenged diplomatic relations between Beijing and Manila. However, Philippine President Rodrigo Duterte is usually reluctant to confront the Chinese regime as he tries to balance economic ties with China. He has been criticized by many Filipinos for refusing to press China on respecting a landmark 2016 arbitral ruling that clarified the Philippines' sovereign rights in its EEZ, which can help the country regain control of the Scarborough Shoal.
On July 12, 2016, the Permanent Court of Arbitration located in The Hague, Netherlands, ruled that China has "no historical rights" based on its "nine-dash line" map. However, Beijing has never recognized the verdict by the tribunal.
On May 10, Duterte said in a televised speech that although his country had accepted COVID-19 vaccines from China, it did not mean that Manila would compromise with Beijing over its territorial claims of the West Philippine Sea.
On May 3, Philippine Foreign Secretary Teodoro Locsin Jr. blasted China with profane language on his personal Twitter account in protest of the "belligerent" actions of Chinese vessels in Manila-claimed waters. Though Locsin apologized later to his Chinese counterpart, Wang Yi, he specifically stated that his apology went to Wang alone.
From April 24 to 25, Philippine coast guard ships carried out exercises at disputed Scarborough Shoal, which Manila claims as its own and is within its 200-mile EEZ. However, they were confronted by aggressive Chinese coast guards. Beijing regards Scarborough Shoal as part of its territories.
As of April 26, the Philippines had filed 78 diplomatic protests against China since Duterte took office in 2016, according to official data.