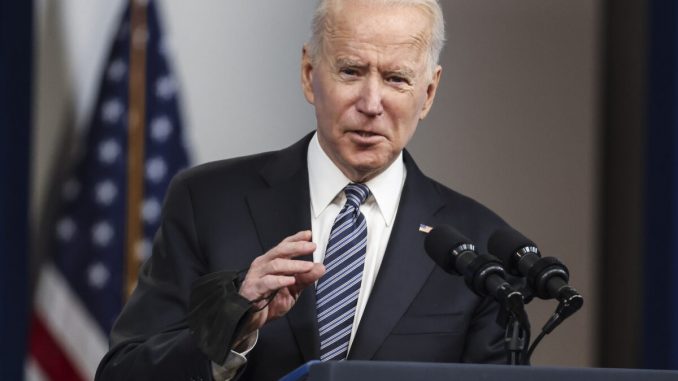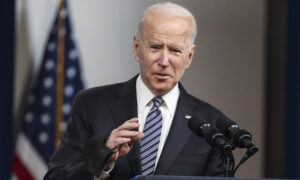 President Joe Biden issued a plea for "kindness and respect" in regards to vaccinated people who want to keep on wearing masks despite new federal guidance that says there's no need.
Biden made the remarks at a press conference at the White House Thursday, after the Centers for Disease Control and Prevention (CDC) announced it was easing its public health measure guidance, with fully vaccinated people generally able to stop wearing their masks, both indoors and outdoors, regardless of gathering size.
"Be patient with one another," Biden said, adding that some vaccinated people may want to keep wearing facial coverings.
"Some may say, 'I just feel more comfortable continuing to wear a mask.' They may feel that way," the president said, and urged people who encounter such individuals to "please treat them with kindness and respect."
"We've had too much conflict, too much bitterness, too much anger, too much polarization of this issue about wearing masks. Let's put it to rest," he said.
Masks became a political flashpoint during the pandemic, with Republicans often arguing that mandates on facial coverings infringed on individual liberties. As the vaccination drive ramped up and a variety of COVID-19 metrics, such as new infections and daily deaths, continued to drop, the issue of mask-wearing became an increasingly contentious issue, with many questioning why it's necessary to still wear a mask after getting the vaccine.
The CDC's Thursday announcement that vaccinated Americans could stop wearing masks indoor and outdoors, regardless of gathering size, was hailed by many eager to ditch facial coverings and resume normal life.
Florida Gov. Ron DeSantis, a Republican, has called on Floridians who are vaccinated to "act immune" and argued that they should permanently ditch their masks.
But some are approaching the CDC's updated guidance with reservation, while for some liberals, diligence against the CCP (Chinese Communist Party) virus appears to have become an expression of political identity.
Kaivan Shroff, an alumnus of the Hillary for America digital team, wrote in a Friday op-ed for public radio WBUR that he, despite being fully vaccinated, "like millions of vaccinated Americans," he will "continue sporting a face covering for the next month or two."
"While media has jumped onto narratives that liberals like myself 'just can't quit' the pandemic, our overcommitment to doing our part in this public health crisis is precisely because we want to leave COVID behind," he wrote.
"Conservatives lambaste 'liberal virtue signalers' like me, labelling us hypocrites. Aren't we the 'follow the science' banshees? Yet, the decision to keep wearing my mask is entirely consistent with the pro-science, pro-public health attitude we've championed since early last year," he argued.
Shroff wrote that his decision to keep wearing a mask is "for the sake of at-risk community members' peace of mind" and that he believes "not ditching the mask immediately will make my community safer" because, he argued, "fewer vaccinated people wearing masks will most likely lower compliance among unvaccinated people" and so raise the risk for vulnerable populations.
When CDC director, Dr. Rochelle Walensky, announced Thursday that the agency had updated its CCP virus public health measure guidance, easing recommendations for mask-wearing, she noted that "the virus can be unpredictable" and so if things get worse, there's a chance the agency will pivot in its recommendations.