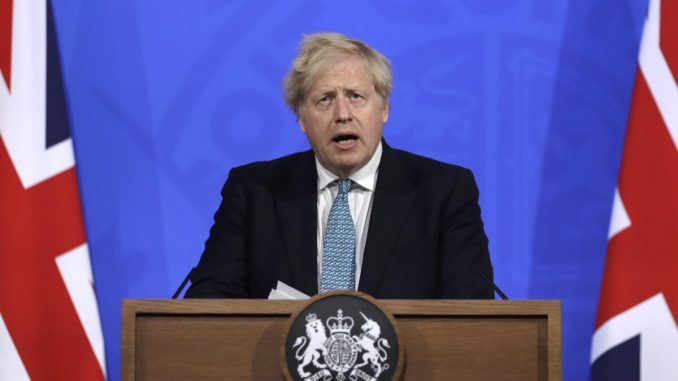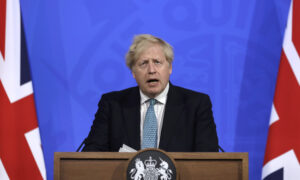 British Prime Minister Boris Johnson has warned that the CCP virus variant first detected in India could "pose a serious disruption" to plans to ease lockdown restrictions and "could make it more difficult" to end them as hoped in June.
But he said that step three of the government's roadmap out of the COVID-19 lockdown will go ahead as planned on May 17, which will allow indoor hospitality venues to reopen and resume international travel.
Addressing a Downing Street press conference, Johnson said: "I do not believe that we need, on the present evidence, to delay our roadmap and we will proceed with our plan to move to step three in England from Monday.
"But I have to level with you that this new variant could pose a serious disruption to our progress and could make it more difficult to move to step four in June."
Johnson said the country will face "hard choices" if the Indian variant of concern, also known as B1617.2, proves to be significantly more transmissible than other strains.
But he said there is "no evidence to suggest that our vaccines will be less effective in protecting people against severe illness and hospitalisation."
"I believe we should trust in our vaccines to protect the public whilst monitoring the situation as it develops very closely, because the race between our vaccination programme and the virus may be about to become a great deal tighter and it's more important than ever therefore that people get the protection of a second dose."
He said the remaining second doses for the over-50s will be accelerated so they come eight weeks after the first.
The government will also prioritise first doses for anyone who is eligible but has not yet taken up the vaccine offer.
In Bolton and Blackburn, where there has been a spike in infections, the army will be deployed on the streets handing out tests to help the surge testing efforts.
Johnson urged people in these areas to "play their part in stopping the spread of the new variant" and asked them to take the vaccine and the twice-weekly rapid tests.
Johnson urged people to "think twice" ahead of travelling to areas with higher incidences of the variant and staying with family and friends within those areas.
"We want people in those areas to recognise that there is extra risk, an extra threat of disruption to progress caused by this new variant and just to exercise their discretion and judgment in a way I'm sure that they have been throughout this pandemic," he said.
PA contributed to this report.