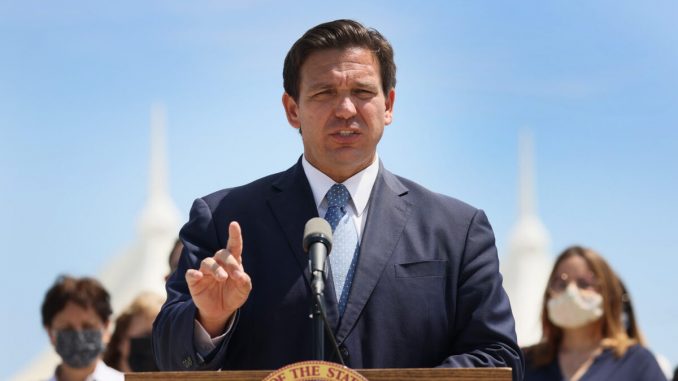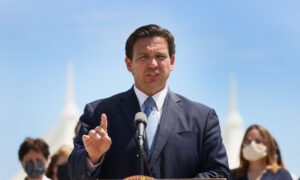 Florida Gov. Ron DeSantis said that the state will not rescind a recent ban on COVID-19 "vaccine passports" despite pressure from cruise companies which are seeking an exemption from the policy.
Speaking Thursday in Ormond Beach, the Republican governor said the Centers for Disease Control & Prevention (CDC) requires that 95 percent of cruise passengers and 98 percent of crew members be vaccinated, saying that cruise ships have to embark on 60 to 90 days worth of preparation.
"The problem is the CDC. The problem is not Florida," he said, describing the CDC's requirements as illogical. "'Oh, by the way, if you're sunbathing you have to make sure they're wearing a mask while they're sunbathing.' Are you kidding me? That is an absolute farce. So, we're challenging the authority of the CDC to be involved to this extent."
DeSantis has been one of the most vocal critics of passport-style systems that would require people to present documentation or a smartphone app that shows they were either vaccinated against COVID-19, the disease caused by the CCP (Chinese Communist Party) virus, or have tested negative.
Such a system, DeSantis and groups like the ACLU have argued, would create a two-tiered society that would grant more rights to individuals who have been vaccinated over those who have not. At the same time, such a system that tracks whether people have been vaccinated would violate individuals' privacy rights, DeSantis has said.
In early April, DeSantis signed an executive order that barred vaccine passports, saying that vaccines are not "required by law" and that "vaccination records are private health information" that shouldn't be shared by a mandate.
Now, the Cruise Line International Association (CLIA), which represents cruise companies, and other cruise lines are seeking an exemption from the passport ban in the state. At the same time, a CLIA spokesperson recently expressed frustration at the CDC's guidance as cruise companies are trying to restart operations.
But DeSantis on Thursday said that the statewide lifting of the passport ban won't happen, adding that cruise companies will find other areas to launch ships.
"We are the number one destination for people who want to come and take cruises," the governor said. "These cruise lines are ready to go—Royal Caribbean, Carnival—they want to go, they're going to be able to do it. We're ready."
DeSantis is suing the CDC over its no-sail order and requirements that 95 percent of passengers be vaccinated.
Some areas in California and New York state have rolled out vaccine passport-like systems. The head of Erie County, New York, for example, announced last month that only those who have been vaccinated—and can present documentation or an app showing they've got the shot—can attend Buffalo Bills and Sabres games in-person.