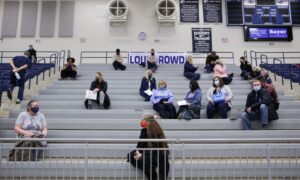 Ohio state will give five residents $1 million each as a monetary incentive for getting vaccinated against COVID-19, Republican Gov. Mike DeWine announced on Wednesday as he lifted CCP virus pandemic restrictions statewide.
Five Ohio residents aged 18 above who have received "at least" one dose of the COVID-19 vaccine will win the sum in once-a-week lottery drawings, the governor said, noting that the incentive program, named "Ohio Vax-a-Million," will be funded by existing federal pandemic relief funds.
The Ohio Department of Health will be the sponsoring agency for the drawings, and the Ohio Lottery will conduct them, DeWine said. The first drawing will occur on May 26.
"I know that some may say, 'DeWine, you're crazy! This million-dollar drawing idea of yours is a waste of money,'" DeWine said in announcing the initiative on Twitter. "But truly, the real waste at this point in the pandemic—when the vaccine is readily available to anyone who wants it—is a life lost to COVID-19."
DeWine said that the pool of names for the drawing that is set to take place each Wednesday for five weeks, will come from the Ohio Secretary of State's publicly available voter registration database. Residents not in the database can register on a separate website that will be made available later, the governor said.
A separate incentive for the younger Ohio population will see five vaccinated 12-to-17-year-old students receive full four-year scholarships to attend Ohio public universities, including tuition, room-and-board, and books.
It comes as demand for COVID-19 vaccines in the state—and nationwide—has dwindled.
DeWine noted that 42 percent of residents have been fully vaccinated against COVID-19, the disease caused by the CCP (Chinese Communist Party) virus. That falls slightly short of the national average of 46.4 percent, according to data from the Centers for Disease Control and Prevention (CDC).
As U.S. demand for vaccines declines, the Biden administration is also facing the challenge of figuring out new ways to motivate more people to get vaccinated. The White House on May 11 said that people traveling to get their shots will get free or discounted ride shares.
Companies have also started offering incentives as part of an effort to encourage Americans to get vaccinated. For example, Krispy Kreme stores are offering one free glazed doughnut for people who show that they have had one or two shots of any COVID-19 vaccine.
The pace of COVID-19 vaccinations has declined in recent weeks, in part following an 11-day pause in administering the single-dose Johnson & Johnson shot as federal health authorities investigated the rare blood clots in the brain in people with low platelet levels.
The CDC and U.S. Food and Drug Administration on April 24 recommended that the distribution of the vaccine continue but with warnings.
"Those who are not vaccinated remain prey to the virus," DeWine said. "We hope for a good summer but we also have to be able to get through the dark days of winter safely. To do that, we need a much higher percentage of Ohioans to be vaccinated."