Prime Minister Scott Morrison has corrected remarks he made that Australia supports a "one country, two systems" approach to Taiwan, which has angered opposition politicians.
Morrison twice referred to a "one country, two systems" approach towards Taiwan, which adopts the Chinese Communist Party's (CCP) policy. In fact, since 1979, Australia's official policy recognises the CCP as the sole legal government and regards Taiwan as a province of China.
At first, the prime minister denied that he had made a mistake when asked about the apparent policy shift, but a spokesperson later confirmed that he misspoke on both occasions. He first made the comment while speaking with 3AW radio host and again with an SBS reporter.
"Australia's one-China policy has not changed," Morrison's spokesman told SBS. "However, Australia maintains close and positive unofficial ties with Taiwan, an important trade and economic partner.
"The prime minister's comments on 'one country, two systems were in relation to Hong Kong," the spokesperson clarified on the matter.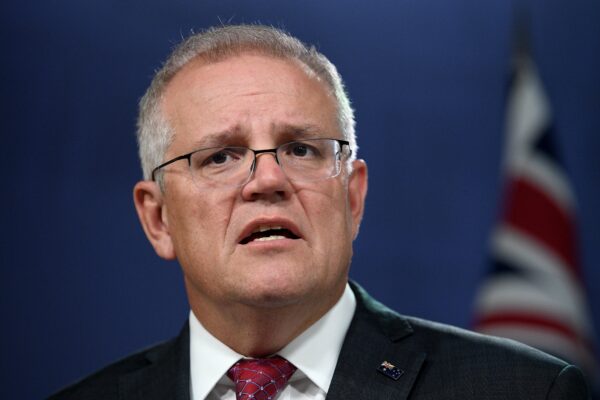 Labor senator Penny Wong thinks Morrison was lying to cover up his mistake. "Either Scott Morrison has substantially shifted Australia's policy on Taiwan, adopting Beijing's position and ending 50 years of bipartisanship—or he's lying to cover up his mistake," she wrote on Twitter.
"Given his form, my assumption is it's the latter."
Taiwan is separated from Mainland China by the Taiwan Strait. The CCP claims Taiwan as its own, even though Taiwan is a de facto independent country, with its own military, democratically-elected government, and constitution.
The Department of Foreign Affairs and Trade sets out Australia's policy on Taiwan on its website: "The Australian Government does not recognise the [Republic of China] as a sovereign state and does not regard the authorities in Taiwan as having the status of a national government."
It explains how this policy came about, citing the CCP establishing the People's Republic of China after the civil war in 1949. The Nationalist forces under Chiang Kai-shek retreated to Taiwan.
"Under the Constitution of the ROC, the authorities in Taipei still claim to be the legitimate government of the whole of China," the policy states.
Australia's "One China" approach does not quite recognise the CCP's "one country, two systems" policy. That said, Australia supports Taiwan's participation in international organisations and has an unofficial diplomatic relationship with Taiwan.
Morrison initially made the mistaken comment on a 3AW radio interview on May 6, causing confusion. When asked if Australia would join the United States if a conflict occurred between Taiwan and China, Morrison indicated that Australia "always honoured" its Indo-Pacific arrangements, "particularly our alliance with the United States."
"We're very cognisant of the uncertainties in our region, Neil, and I'm not one to, you know, speak at length on these things because I don't wish to add to any uncertainty," he said. "But that's why we have the security arrangements we have in place. We've always understood the [one country, two systems] arrangement, and we will continue to follow our policies there."
In that same interview, the prime minister confirmed that Defence Minister Peter Dutton did not authorise the home affairs secretary's comments that the "drums of war" were beating in regards to China.
These comments come as Australia was criticised by CCP mouthpiece Global Times for increasing its defence budget by $1.9 billion over the next 10 years. This was done so Australia can be "prepared for a world that is less stable and more contested," Treasurer Josh Frydenberg said in his Federal Budget 2021 speech.