PG-13 | 2h 10min | Action, Thriller | 21 December 2012 (USA)
By all accounts, the action and crime-thriller genres have become increasingly bloody and depraved in recent years. In general, pointless hyper-violence has been the de jour as detailed in my review of John Wick: Chapter 3 – Parabellum a couple of years ago. Sadly, this unfortunate trend toward nihilistic filmmaking—mostly bereft of anything remotely resembling cogent narratives—doesn't seem to be ending soon. But there have been a few bright spots within the past couple of decades.
Back in 2012, director Christopher McQuarrie helmed "Jack Reacher" (adapted from Lee Child's book "One Shot") as one of those increasingly rare action yarns that has not only an intriguing plot but also compelling characters.
Catch the Sniper
Our story begins with an inconspicuous white van pulling into a multi-storied parking garage in Pittsburg's North Shore area. The van parks on one of the garage's upper levels and a mysterious man exits the vehicle with a sniper rifle. After settling into a good sniping position with an elevated vantage point overlooking Pittsburg's PNC baseball park—across the wide expanse of the Allegheny River—he begins peering through the rifle's scope and scanning for potential targets.
It doesn't take long for the sniper to find some. It's in the middle of the day and plenty of people are out and about enjoying the sunshine. A man sitting on a park bench is the first to receive a high-powered rifle round, followed by a woman casually walking up some stairs. Three more people will be shot and killed before the sniper suddenly packs up and leaves the garage.
Detective Emerson (David Oyelowo), of the Pittsburgh Police Department, is assigned to the case. He finds some spent shell casings at the parking garage crime scene. The van's license plate was also was captured by surveillance cameras, which helps him to deduce the location of the supposed perpetrator of these heinous, unprovoked killings.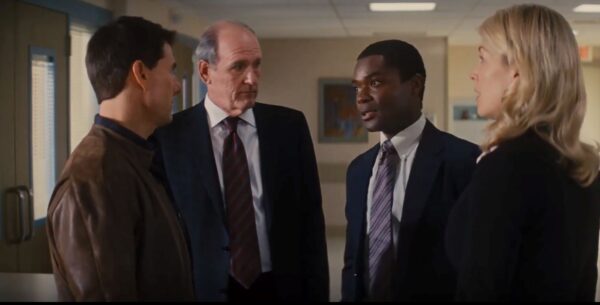 They soon close in on and arrest a man named Barr (Joseph Sikora), an Iraqi War Veteran. At Barr's residence, they find all kinds of damning evidence:  a white van matching the one captured on the garage surveillance cameras, as well as matching rifle rounds. The whole affair appears to be an open and shut case. But there's only one problem: The man they take into custody, Barr, is obviously not the same man we saw sniping people.
While Emerson and the district attorney Alex Rodin (Richard Jenkins) interrogate Barr, the suspect's only reaction is to write a name down on a piece of paper that reads: "Get Jack Reacher." Emerson attempts to track down Jack (Tom Cruise), a former military police investigator, but finds that he's impossible to locate, let alone trace.
As Emerson is relaying this information to Rodin, Jack suddenly shows up, and some verbal sparring ensues between the two parties. While Emerson and Rodin want to know what Jack's relationship to Barr is, Reacher has his own set of questions about the case.
Barr's attorney, Helen (Rosamond Pike), who happens to be Rodin's daughter, soon emerges as Jack's ally, and the two delve further into the peculiar case. Although Jack is aware of Barr's erratic behavior during his military service, he suspects that Barr has been set up by shadowy forces in what could be considered a bona fide criminal conspiracy. Soon, both Jack and Helen find themselves being hunted down by a sinister underworld cabal.
Throwback Thriller
Unlike many contemporary action-oriented crime thrillers, this film is relatively tame with the bloodshed. It also eschews many of the tropes associated with similar movies, such as excessive CGI effects (usually in the form of arterial blood geysers) and implausible feats of physical prowess. Indeed, the over-the-top scenes witnessed here are delivered in much more of a tongue-in-cheek manner, and bits of humor pepper the film.
In all, this movie is somewhat of a throwback to the crime dramas of the '40s and '50s, but with the good-natured grit evocative of the action-thriller yarns of the '80s and '90s.
With fine performances by its stellar cast and skillful steering by McQuarrie, "Jack Reacher" is an engaging romp that is low on gratuitous bloodshed and high on buoyant charm and interesting intrigue.
'Jack Reacher'
Director: Christopher McQuarrie
Starring: Tom Cruise, Rosamund Pike, Richard Jenkins
Rated: PG-13
Running Time: 2 hours, 10 minute
Release Date: Dec. 21, 2012 (USA)
Rated: 3.5 stars out of 5

Ian Kane is a filmmaker and author based out of Los Angeles. To learn more, visit DreamFlightEnt.com or contact him at Twitter.com/ImIanKane