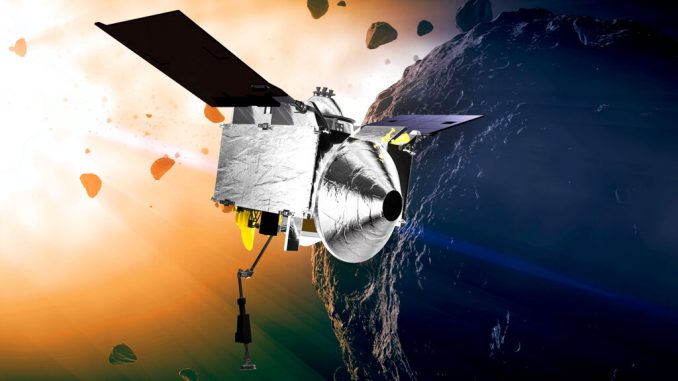 OAN Newsroom
UPDATED 12:50 PM PT – Tuesday, May 11, 2021
On Monday, NASA's OSIRIS-REx began its trip back to Earth after being declared the first NASA spacecraft to collect physical samples from an asteroid for a return mission.
The spacecraft fired up its main throttle for around seven minutes before taking flight, making sure to dust off the rust that has accumulated since it reached the asteroid Bennu in 2018. In October, OSIRIS-REx scavenged Bennu, collecting around two pounds of rocks and dust.
After nearly 5 years in space, @NASASolarSystem's #OSIRISREx mission is heading to Earth with a sample of rocks & dust from a 4.5-billion-year-old asteroid!

🪨 ▪️▪️▪️🛰️▪️▪️▪️ 🌎

Check out how its mission #ToBennuAndBack exceeded our expectations: https://t.co/91n38cmQNA pic.twitter.com/bxtT0uXeu3

— NASA (@NASA) May 10, 2021
OSIRIS-REx had studied the ancient body of Bennu for two years, paying close attention to the asteroid's rubble-like consistency and surface terrain. This sparked further interest as to what history it holds.
It will take the spacecraft approximately 2.5 years before ultimately reaching its' home planet and will be transporting what is reported to be the biggest cosmic haul for the U.S. since the Apollo moon rocks.
OSIRIS-REx is expected to reach Earth by the end of September 2023 and will touchdown in the Utah desert. Researchers hope the mission will help give humanity a deeper understanding of our solar system.