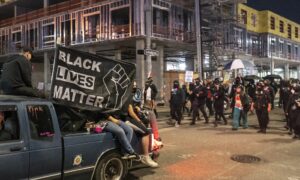 The North Carolina state House approved a GOP-backed bill that enhances penalties for rioting and civil disorder—coming in the wake of nationwide Black Lives Matter-linked riots and demonstrations last year.
The bill, House Bill 805, would allow property owners to sue for damages incurred during a riot, including court and attorney fees. It also seeks to significantly increase penalties for participating in a riot, inciting a riot that leads to death, and engaging in riots that lead to injuries of a first responder, according to the text (pdf) of the bill.
House Speaker Tim Moore, a Republican, and a group of GOP lawmakers sponsored the measure, saying it was in response to the left-wing riots last year following the death of George Floyd in Minneapolis.
"In North Carolina, we saw many instances of individuals going and committing massive property damage, destroying businesses already suffering from the closure and reduce business because of COVID-19. To come in and find their businesses and the property absolutely destroyed [and] individuals assaulted," he said in a statement. "In fact, some of the folks who got assaulted were some of the people who were, in fact, there for those peaceful protests that turned into this."
The term "protest" is not included in the bill and only applies to riots, which are defined by a public disturbance involving at least three people who are engaging in disorderly or violent conduct that results in injury or damage.
Under the measure, individuals who incite or call on others to partake in a riot may face the state's most serious misdemeanor charge, up to 150 days in jail, and a fine. However, if the damage exceeds $1,500, it would be increased to a felony.
Individuals who engage in a riot that causes serious injuries or death would have as get as many 88 months—or more than seven years—in prison, the bill stipulates, as reported by the News Observer.
Democrat lawmakers said that the bill gets too close to infringing on state residents' First Amendment rights to assemble and protest
State Rep. Marcia Morey, a Democrat, asked other lawmakers: "if I am marching downtown and three blocks ahead of me someone takes a baton and smashes out a window and enters the store because I am also marching, am I going to be liable to be charged with a felony rioting?"
"What is an overt act" of rioting, she also asked. "We don't know."
The American Civil Liberties Union (ACLU) also said it would infringe on North Carolinans' rights, namely minority groups.
"It sends the wrong message and it will have severe consequences, especially for people of color," said Daniel Bowes, a spokesman for ACLU of North Carolina, according to the News Observer.