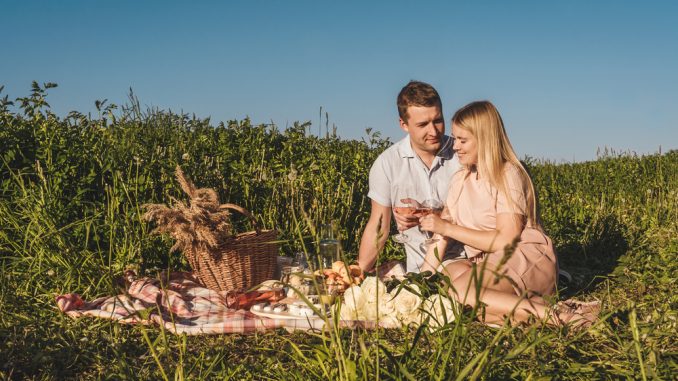 As the days become warmer and longer, I can't wait to dust off my picnic basket.
Picnicking is the perfect way to relax and socialize with your loved ones, while enjoying good food in the great outdoors. Picnics have soared in popularity since the pandemic hit. With restaurant closings and dining inside being deemed "unsafe," even people who weren't fans of eating outdoors all of a sudden had to do so. In the countries around the Mediterranean basin, however, picnics have always been enjoyed, both as a pleasure and a necessity.
What we think of as a picnic, a meal packed up to be enjoyed in the open air, has long been practiced by shepherds, farmers, and fishermen who needed to pack food with them to work, since they often couldn't leave their animals, fields, or the sea to come home at mealtime.
In fact, when I look for inspiration for modern picnics, I always think about what a Greek shepherd, an Italian farmer, or a Spanish fisherman might pack up to take on their daily journey. Chunks of aged cheese, olives, bread, cured meats and fish, and bean-based sandwiches and other dishes are longstanding portable favorites.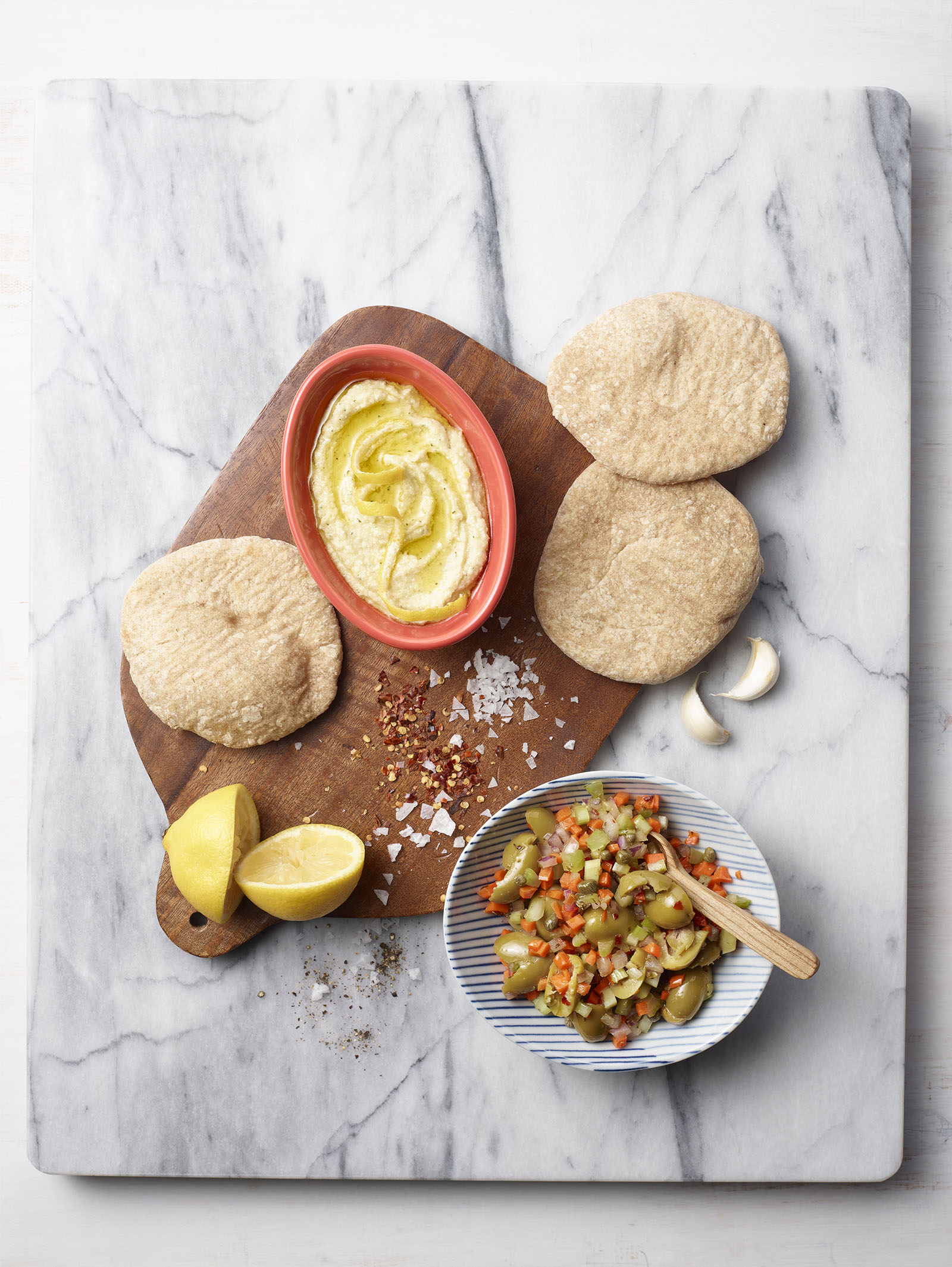 Mediterranean Favorites
Here, I've put together some of my favorite picnic-friendly recipes from the Mediterranean, which stand the test of time—and can also stand up to the heat. I love this menu because it's tasty and substantial enough to stand alone, but also makes a great accompaniment to other traditional warm-weather fares, such as grilled or cured meats and fish. And when you fill your basket with delicious dishes from the Mediterranean, you're in for not only a great-tasting meal, but a healthy one as well.
The Sicilian cracked olive salad is a cherished childhood recipe that seemed to show up on every special occasion table. I like to take it outside in the spring and summer. I love Castelvetrano olives—or any other large, bright, green variety—as they create a nice contrast to the freshness and crunch of the other vegetables, a mix of carrots, celery, and red onion.
The olives and olive oil are rich with omega-3s, and the vegetables provide even more antioxidants and vitamins. Eating a handful of olives prior to a meal helps you to absorb more nutrients from the meal, digest your food better, and eat less, making this dish the perfect picnic appetizer. You'll want to make large portions to keep on hand for topping panini as well as grilled fish, meat, and vegetables all season long.
If you love classic hummus but are looking for something new, my white bean, lemon, and herbed feta dip is a satisfying and equally nutritious alternative. I was inspired to recreate the creamy, piquant dip after a trip to Santorini, Greece, where it's common. It became a fan favorite at my book signings and events, and nowadays, it's a beloved dish that I turn to when I want to please a lot of people fast.
Whole wheat pita is a natural partner, and this recipe is easy to prepare, with soft and pillowy results. I usually make the pita bread ahead of time, as they freeze well, or can be stored in the refrigerator overnight and reheated under the broiler (or even on the grill) the next day. If you're short on time but want to enjoy the same idea, you could make the dip and the olive salad and serve them with purchased bread. For those who prefer not to eat bread, swap it for a crudité platter.
A Healthy Habit
Eating together is part of the Mediterranean culture, and promotes a sense of community and well-being for everyone involved. It's even believed to contribute to the remarkable longevity in the region. In addition to enjoying everyday meals together, picnicking with your friends and family is a fun and memorable way to practice this healthy lifestyle habit.
Don't squander a beautiful afternoon or evening by eating indoors. Grab a blanket and some companions, and take your meal of healthy, healing foods to the local park, lakefront, or even your own backyard. Breathe in the fresh air, savor every bite, and make a lasting memory for you and your loved ones.
Sicilian Olive Salad
This cracked olive medley is a family favorite that is popular both in Calabria and Sicily. Sicilian Castelvetrano olives are becoming readily available in major supermarkets now, and if you have access to those, they are a great choice for this salad. Many Italian American delis sell "Sicilian Colossal" olives, which also work well.
You can toss a few tablespoons of this mixture into hot pasta in the winter, or chilled rice or quinoa in warmer weather. It's also a great way to dress up ordinary vegetables, seafood, and meat.
Makes 16 servings
8 ounces large green olives, such as Castelvetrano olives, rinsed well, drained, and rubbed dry
5 celery stalks, diced
2 carrots, peeled and diced
1 small red onion, diced
3 garlic cloves
2 teaspoons dried oregano
1/2 teaspoon black pepper
1/8 teaspoon crushed red pepper flakes
1/4 cup Amy Riolo Selections, or other extra-virgin olive oil
Place olives on a cutting board. Cover with a clean kitchen towel and smash them lightly with a meat hammer or the back of a skillet. (The objective is to slightly crush the olives.)
Place olives in a bowl and stir together with remaining ingredients.
Marinate salad for an hour at room temperature, or cover and chill in the refrigerator for at least 1 day and up to 3 days.
Bring salad to room temperature before serving.
Recipe from "The Mediterranean Diabetes Cookbook, 2nd Edition" by Amy Riolo
White Bean, Lemon, and Herbed Feta Dip
Did you know that the average Greek consumes approximately 22 pounds of feta cheese a year? If you are a Mediterranean food fan, this creamy dip will make a great addition to hummus in your repertoire.
Note that if storing this dip in the refrigerator, it will have a tendency to firm up. Simply stir in water, a tablespoon at a time, until it becomes the desired consistency before serving.
Serves 4
1 1/2 cups (15 ounces) cooked cannellini beans, rinsed and drained
1 cup Greek feta, cut into small pieces or crumbled
Juice and zest of 1 lemon
1/4 cup Amy Riolo Selections, or other, extra-virgin olive oil
1/4 cup fresh mint, plus extra for garnish
1/4 cup fresh oregano leaves, plus more for garnish
Sea salt
Freshly ground pepper
Combine cannellini beans, feta, lemon juice and zest, olive oil, mint, and oregano in a food processor. Puree, pulsing on and off, until smooth. Taste and season with salt and pepper.
Whole Wheat Pita Bread
From Greece to Lebanon and throughout North Africa, puffy, warm pita bread is the perfect accompaniment to dips, sauces, and purees. This recipe is surprisingly easy to make and gives you tender, pillowy pitas that are a pleasure to eat.
I use different combinations of flour depending upon my mood and what I am going to serve the pita with. If I just need plain bread to go with a variety of foods, I will probably make these with regular all-purpose flour. If I want to make sure I'm making a healthier bread, I will use whole wheat—which pairs really well with the white bean, lemon, and feta dip, because its heartier texture is a nice contrast to the creaminess of the dip. Other times, I will use half and half, so that I get the best of both worlds in terms of flavor and nutrition.
Makes 13 pitas
2 1/4 cups warm water
2 tablespoons active dry yeast
1 tablespoon salt
7 cups unbleached all-purpose or whole wheat flour, or 3 1/2 cups of each
2 tablespoons Amy Riolo Selections or other EVOO
Pour water into a large bowl. Add yeast and stir until dissolved. Add salt, and gradually incorporate the flour to form a dough. Turn out onto a lightly floured work surface and knead for 10 minutes, until smooth and elastic, or place in the bowl of an electric mixer fitted with a hook attachment and knead on medium speed for 2 minutes. Pour oil into a bowl and place dough inside the bowl, turning to coat. Cover with a kitchen towel and let rise until doubled in bulk (1 1/2 to 2 hours).
When dough has risen, punch down gently. Divide dough into 13 equal portions and shape into balls. Place on a lightly floured surface and cover with a dry kitchen towel. Let rest for 15 minutes.
Preheat oven to 475 degrees F. Place a baking stone or sheet on the lowest oven rack.
Roll out each ball of dough to form a 6-inch circle. Place 3 circles on each preheated baking sheet and bake for approximately 12 minutes, until they are puffed up and begin to turn light brown in color. Refrain from opening the oven during the first 4 minutes of cooking. Remove with a metal spatula or pizza peel and place in a bread basket or serving platter. Repeat with remaining dough circles until all are cooked.
Place extra pita breads in plastic bags, seal tightly, and freeze until needed. Thaw at room temperature and reheat under the broiler.
Recipe from "The Mediterranean Diabetes Cookbook, 2nd Edition" by Amy Riolo
Amy Riolo is an award-winning, best-selling author, chef, TV host, and educator. As a Mediterranean lifestyle ambassador, she is known for sharing history, culture, and nutrition through global cuisine, and simplifying recipes for the home cook. Find her at AmyRiolo.com