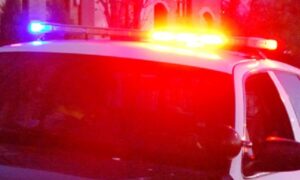 A firefighting Black Hawk helicopter carrying four people crashed during a training exercise in Leesburg, Florida on Tuesday afternoon, according to reports.
Leesburg Fire Rescue said in a Facebook post that the crash, which occurred near Leesburg airport, "appears to be a total loss" and no survivors have been found, although one person has been confirmed dead. A photo posted by the fire department showed plumes of smoke arising from the crash site.
The Federal Aviation Administration (FAA) was notified of the crash and will start its investigation on Wednesday, the department announced.
The crash occurred around 4 p.m. Tuesday local time, Click Orlando reported, citing the FAA. Aerial footage from the outlet, taken when the sun had already set, showed flames still rising from the wreckage.
Firefighters were still working to control the blaze around 7 p.m. local time, reported the Daily Commercial.
Leesburg Police Lt. Joe Iozzi said that the wreckage was in a marshy and heavily wooded area that took several hours to reach, and that the helicopter appeared to break apart, reported the Orlando Sentinel.
Iozzi said that witnesses at the scene said that the helicopter "went into a tailspin, and at some point the tail separated from the main body."
The Leesburg Fire Department noted that as of late Tuesday, a fire sparked by the crash was mostly under control, and U.S. Forest Service members were present to plow a line around the scene to prevent any further vegetation fires.
The Sikorsky UH-60 helicopter, also referred to as Black Hawk helicopter, is widely used by the U.S. military as well as in 28 other countries, according to aerospace company Lockheed Martin.