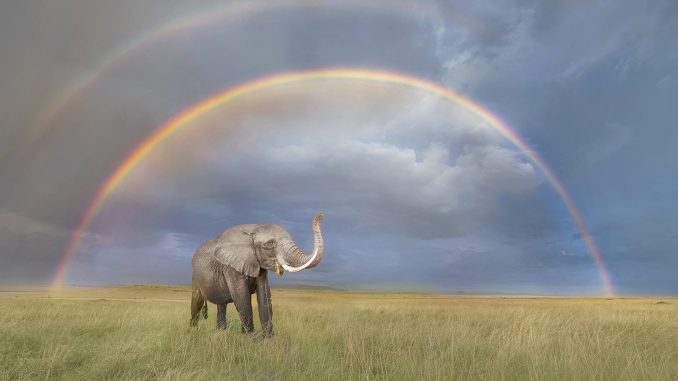 This beautifully timed photograph shows the moment an African elephant appears to pose for a photograph in front of a double rainbow.
Jeffrey Wu, a professional wildlife photographer from Toronto, Canada, was filming a documentary on the plains of Maasai Mara National Reserve in Kenya when storm clouds gathered.
Wu said: "The heavy downpour lasted about one and a half hours, but right after the rain a beautiful double rainbow occurred in the sky."
After taking a few shots of the lion under the rainbow, as Wu's team was still filming the pride, his driver, Ole Ronko Jack, managed to spot an elephant wandering all by himself on a hilltop toward the east.
Wu rushed to snap the once-in-a-lifetime image without delay as the elephant raised its trunk into the air.
"I used a 14mm lens to ensure that I captured the whole rainbow framing this elephant," Wu said, referring to the photo. "You can see the elephant is washed clean and still wet, the reflection of the body gave it a texture like a metal sculpture."
He explained that the rainy season is common in May for the region of Maasai Mara, and thus spotting a rainbow after the rain is usual.
However, Wu admits that "having such an intensive whole double rainbow," and spotting a lone elephant on the hilltop with a clean horizon to photograph is a rare opportunity. "It's just one of my lucky days," he said.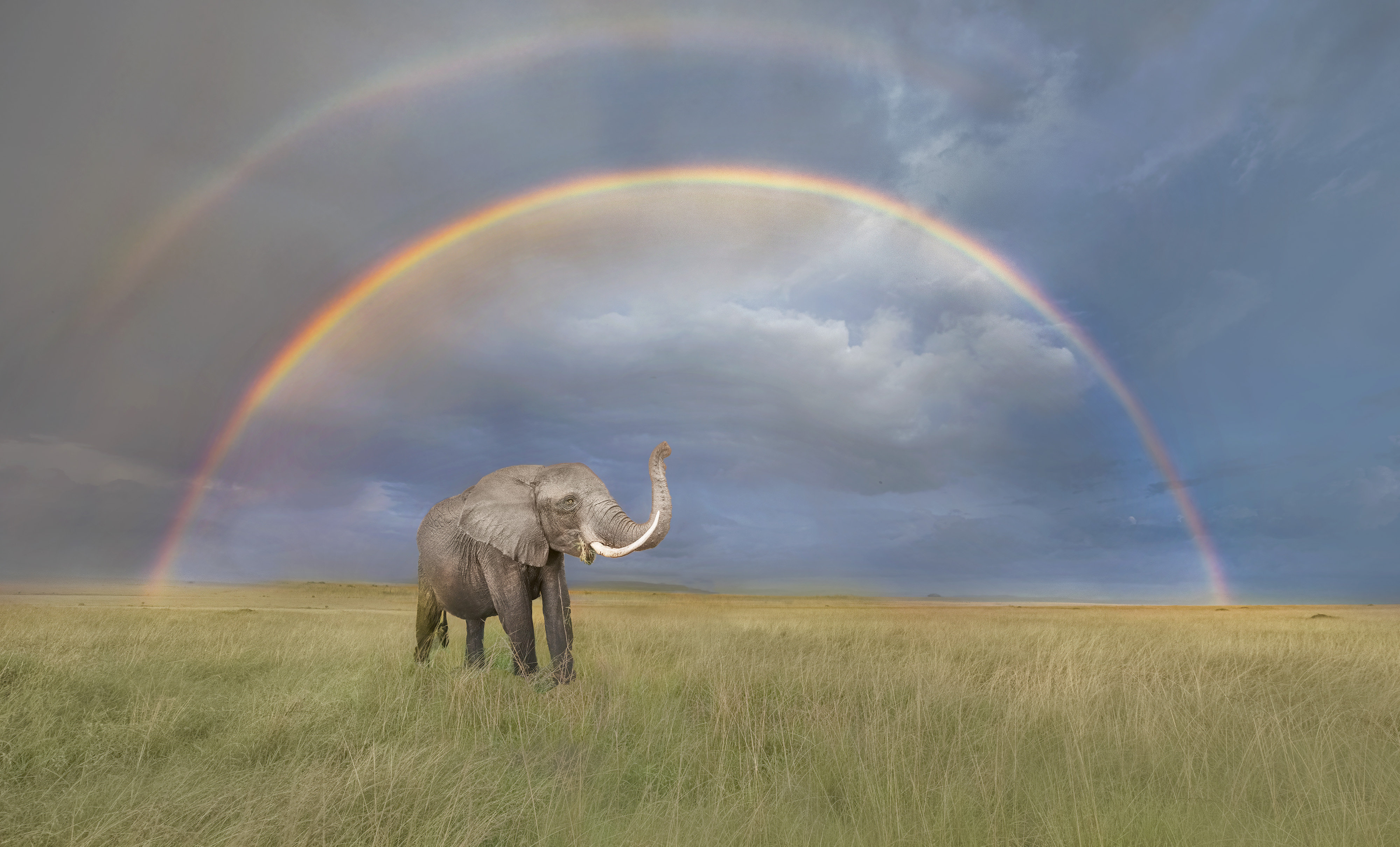 The 55-year-old photographer spends 8–10 months each year leading photo tours in Africa. According to his website, Wu—a world-renowned photographic competition judge—began taking pictures from the age of 7.
He derived inspiration from his mother, who is a professional portrait photographer herself. Wu, who is also an artist, author, educator, and conservationist, only became a wildlife photographer in 2013.
The talented photographer strongly believes that "life is not about how many breaths you take, but about the moments that take your breath away."
Epoch Times Staff contributed to this report.
Share your stories with us at emg.inspired@epochtimes.com, and continue to get your daily dose of inspiration by signing up for the Epoch Inspired newsletter at TheEpochTimes.com/newsletter