American employers posted a record number of available jobs in March, highlighting the hiring woes of businesses, with some blaming the pandemic-related federal unemployment boost for sidelining workers.
Job openings rose nearly 8 percent month-over-month to 8.1 million in March, the highest number in the history of the series, which dates back to December 2000, the Bureau of Labor Statistics said in a release Tuesday (pdf).
At the same time, a jobs report released last week showed that America's private employers in April added a paltry 266,000 jobs—a proxy for new hires—despite sky-high availability of jobs and an unemployment rate of 6.1 percent, mostly because businesses seem unable to find the workers they need.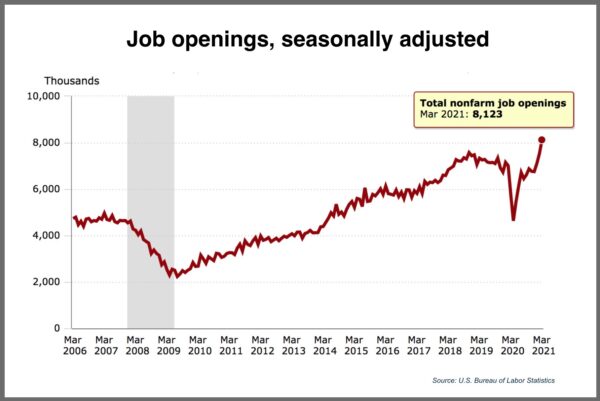 Mark Fox, a New York City restaurant owner, told the Epoch Times that even though business is now finally starting to pick up, hiring troubles have slowed down the momentum.
"We have difficulty hiring hourly workers, bartenders, servers, bar-backs, busboys, runners, overnight cleaning staff," Fox said.
"We are probably 60 employees short," he said. "I have one restaurant in Greenwich Village that I haven't reopened yet because they don't have the manpower."
Following the release of last week's disappointing jobs report, President Joe Biden sought to fend off claims that the enhanced unemployment boost was creating a disincentive for people to take jobs and so driving the sharp slowdown in April hiring.
Biden was asked at a press conference on May 7 whether the federal $300 weekly jobless benefit top-up—above and beyond what states provide—had any effect on diminishing a return to work.
"No, nothing measurable," Biden said.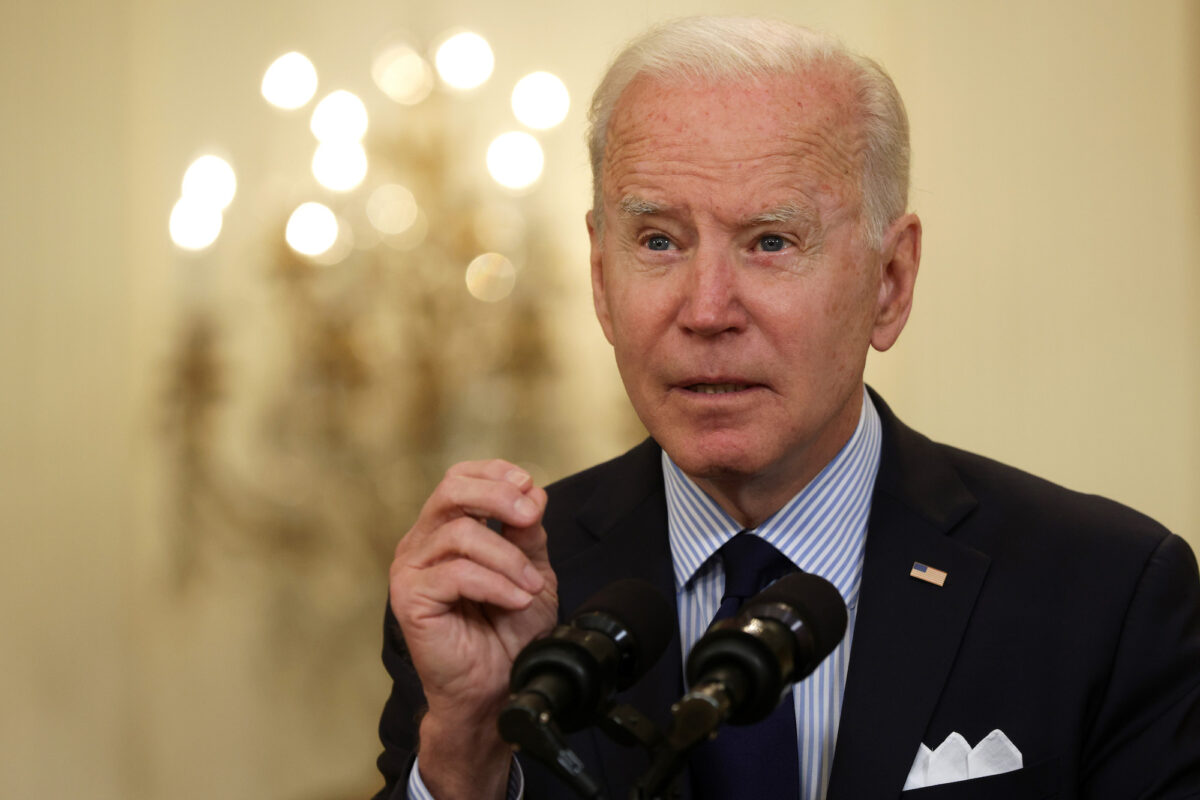 At a White House briefing on Monday, Biden said his administration would work with states on renewing requirements that workers cannot turn down a "suitable" job they are offered and continue to collect federal jobless benefits.
"We're going to make it clear that anyone who is collecting unemployment who is offered a suitable job must take the job or lose their unemployment benefits," Biden said, adding that there would be "a few COVID-19-related exceptions" to the guidance.
The Labor Department is expected to send a letter to states to "reaffirm that individuals receiving UI may not continue to receive benefits if they turn down a suitable job due to a general, non-specific concern about COVID-19," the White House said in a release.
The White House noted exemptions from the policy for workers who are unable to take a job due to child care responsibilities or the worksite is not complying with federal or state health guidelines.
Republican governors in a number of states—including Alabama, Arkansas, Montana, and South Carolina—are responding to business hiring woes by ending the federal unemployment boost ahead of its scheduled termination date in September.
The U.S. Chamber of Commerce, too, has called for an early end to the $300 jobless supplement.
"The disappointing jobs report makes it clear that paying people not to work is dampening what should be a stronger jobs market," U.S. Chamber of Commerce Chief Policy Officer Neil Bradley said in a statement on May 7. "One step policymakers should take now is ending the $300 weekly supplemental unemployment benefit. Based on the Chamber's analysis, the $300 benefit results in approximately one in four recipients taking home more in unemployment than they earned working."
Treasury Secretary Janet Yellen, speaking at a press conference on May 7, dismissed claims that the weekly jobless top-up was discouraging people from taking jobs.
"I really don't think the major factor is the extra unemployment," she said, arguing that the jobs data tends to be volatile and the broader trend is positive, pointing out that, on average, the economy has added around half a million jobs monthly in the past three months.
"There's no question that we're hearing from businesses that they are having difficulty hiring workers," Yellen acknowledged, although she said that the hard-hit leisure and hospitality sector showed strong job gains in April.
"We saw a promising growth of 331,000 jobs in leisure and hospitality, which includes the restaurants and bars that have been so badly battered by this pandemic," she said.
The economy is still around 8 million jobs below pre-COVID levels.
Bowen Xiao contributed to this report.