About 13 percent of the nearly 2.1 million ballots cast in Maricopa County, Arizona in the 2020 election have been counted in an ongoing election audit, an official said Monday.
About 275,000 ballots have been reviewed so far by workers hired by companies tapped by the Arizona Senate, former Republican Secretary of State Ken Bennett told reporters at Arizona Veterans Memorial Coliseum.
The audit started on April 23. Workers take off Sundays. That means workers have processed about 20,000 ballots a day.
The firms, led by Florida-based Cyber Ninjas, are also inspecting machines used in the 2020 election.
Arizona's Senate ordered the audit over election integrity concerns.
Democrat Joe Biden narrowly won Arizona over Republican Donald Trump. Many GOP voters and officials have alleged fraud occurred in Arizona and elsewhere. Republican Arizona Senate President Karen Fann has said she thinks the audit will uncover "irregularities."
The Senate has leased the Coliseum in Phoenix until May 14. A slew of high school graduations are scheduled for the venue then, which will force the audit to pause. There are plans in place if the audit is not completed by the time the graduations start, Bennett, the Senate's liaison for the audit, previously told The Epoch Times.
All of the ballots in that event will be moved to a different place onsite. The site, as with the audit itself, will be webcast 24 hours a day.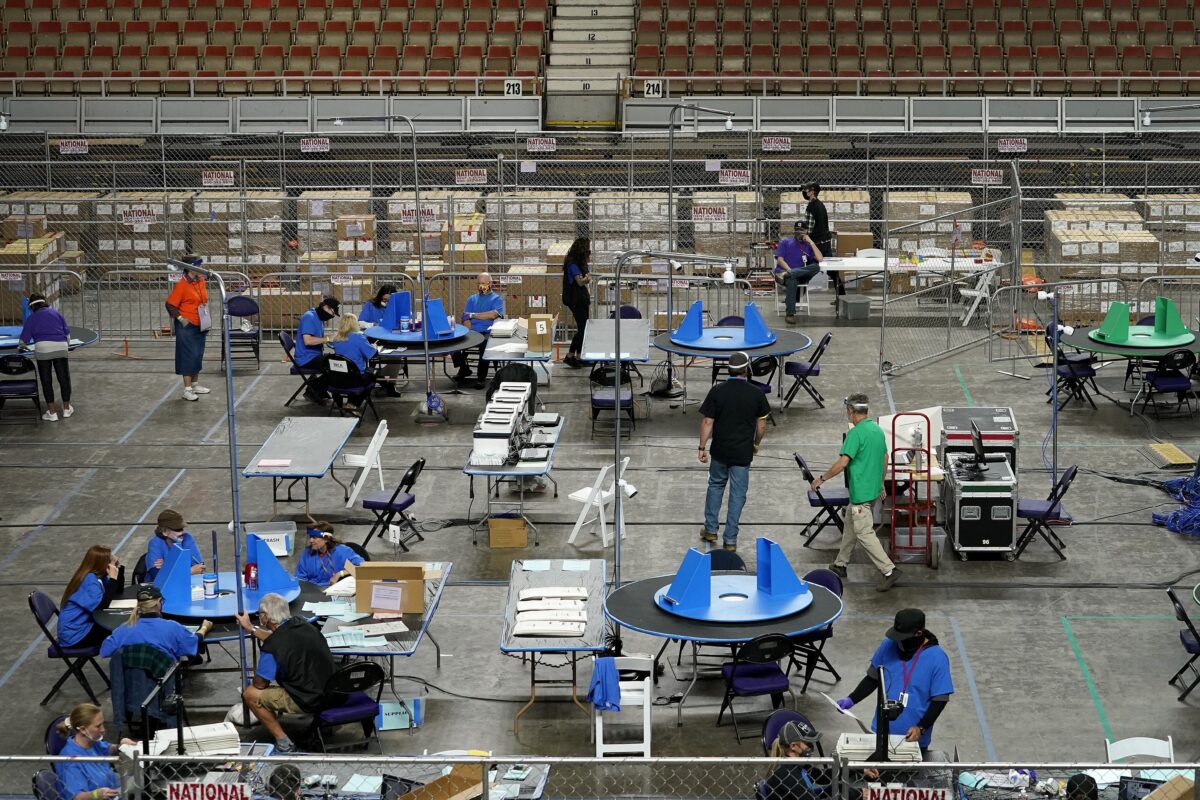 The Coliseum is on the State Fairgrounds. The State Fair is preparing paperwork for the resumption of the audit at the Coliseum later this month, according to Bennett. A spokeswoman said that nothing has been signed as of yet but there is a plan for everything to be moved out of the Coliseum at the end of the week to "a secure location on the grounds."
Senate-hired firms have been trying to hire more workers but only 19 tables on Monday were staffed, far below the 46 tables Bennett has said would be ideal.
Background checks for potential hires are slowing things down, he told reporters.
"Hopefully within a few days or when we come back after the graduations, we'll be fully stocked at the tables and ready to go," he said.
Bennett also said that he received a threatening email and referred it to the Phoenix Police Department. Arizona Secretary of State Katie Hobbs, a Democrat, has also said she's received threats, prompting Gov. Doug Ducey, a Republican, to order protection for her.