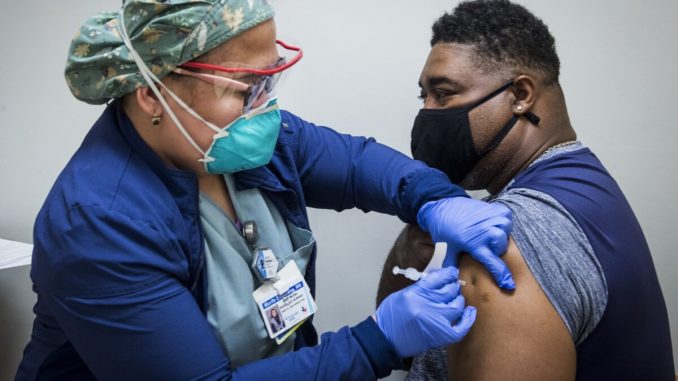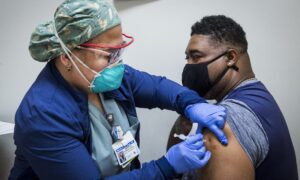 Wyoming Gov. Mark Gordon issued a directive to ban so-called COVID-19 "vaccine passports" that have been flagged by civil liberties groups as a potential invasion of Americans' privacy.
Gordon's directive tells state agencies, boards, and commissions to "provide full access to state spaces and state services, regardless of a constituent's COVID-19 vaccination status," and "prevents state agencies, boards, and commissions from requiring 'vaccine passports,'" according to a news release on May 7.
The release said that the directive calls on local governments and businesses to align their vaccination policies with the state's policies.
"Vaccine passport programs have the potential to politicize a decision that should not be politicized," Gordon, a Republican, said in a statement. "They would divide our citizens at a time when unity in fighting the virus is essential, and harm those who are medically unable to receive the vaccine. While I strongly encourage Wyomingites over the age of 16 to get vaccinated against COVID-19, it is a personal choice based upon personal circumstances."
Other than Wyoming, Montana, Arizona, Texas, and Florida have blocked the usage of vaccine passports, while legislatures in Indiana and Iowa have passed bills blocking them. Similar measures are being proposed in Michigan, Tennessee, New Jersey, and New Hampshire.
New York and some parts of California, meanwhile, have rolled out programs for digital CCP (Chinese Communist Party) virus and testing passports. New York's Excelsior Pass was implemented several months ago for sporting events, Madison Square Garden, the Times Union Center, and the City University of New York.
And last week, the island nation of Cyprus announced its "Coronapass" vaccine passport system, which would require a document or mobile phone certificate to prove vaccination or a negative CCP virus test, local media reported. The pass has to be displayed by all residents and tourists at restaurants, hotels, cafes, bars, houses of worship, cinemas, theaters, malls, gyms, salons, beaches, supermarkets, and other public venues, officials said.
"Cyprus takes a step towards returning to a more normal pace of social and economic activity," Health Minister Constantinos Ioannou said, as reported by the National Herald.
Several other countries, including Israel and Iceland, have mandated vaccine passports for certain activities.
But the American Civil Liberties Union in late March also voiced concern about such proposals, saying that it would likely violate Americans' privacy—namely if there is a centralized, digitized system. The group noted that individuals who do not have a smartphone with an app saying they are vaccinated could be excluded from certain services.
COVID-19 is the illness caused by the CCP virus.