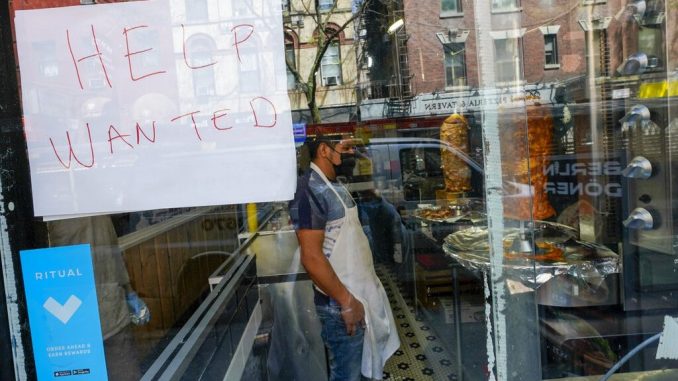 OAN Newsroom
UPDATED 9:38 AM PT – Monday, May 10, 2021
As the economy continues to recover from COVID-19 shutdowns, restaurants across the U.S. have reported they are struggling to hire new workers.
According to an April census poll, more than half of hospitality businesses reported that they need to hire workers over the next few months in order to prepare for summer. However, almost 40 percent of restaurants said they are having trouble filling positions for severs, cooks and other necessary jobs.
According to some restaurant managers, Joe Biden's large relief packages are to blame for the lack of applicants. Virginia restaurant owner Khalil Azar explained how the benefits are contributing to his restaurant's employment struggle. Azar expressed his irritation stating, "they are not motivated to work…they get the same money as if they were working."
While restaurant owners also cited some hesitancy from applicants fueled by COVID-19 fears, the most prominent factor was the $300 weekly unemployment supplement provided by Biden's $1.9 trillion American Rescue Plan.
Ohio Restaurant Association President John Barker commented saying, "a lot of people are saying, why would I need to go back to work if I have this federal and state support?"
Tom Spano, who is a San Diego Restaurant Manager at Piatti, added that many of his former employees left the hospitality business all together. "It is difficult right now, we've tried everything under the sun to try and get more staff in," Spano explained. "Thank goodness for the staff that stayed on before, but we've lost a lot of people through other careers."
The additional $300 is set to expire this fall and restaurant owners as well as managers are hopeful it will bring in more employees to help their businesses.