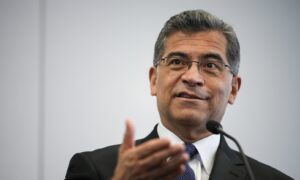 The Biden administration announced that it's overturning a Trump-era Department of Health and Human Services (HHS) rule that excluded gender identity from sex discrimination protections in the Obamacare statute.
The rule dealt with Section 1557 of the Affordable Care Act, which made it unlawful to discriminate on the basis of "race, color, national origin, sex, age, or disability in certain health programs and activities."
Health and Human Services Secretary Xavier Becerra said on May 10 that the decision was made in light of a landmark Supreme Court ruling on an unrelated topic.
The June 15, 2020, ruling in Bostock v. Clayton County–that employees can't be fired from their jobs because of sexual orientation or gender identity—was a defeat for the Trump administration. During oral arguments in the case, then-Solicitor General Noel Francisco said, "Sex means whether you're male or female, not whether you're gay or straight."
Decision author Justice Neil Gorsuch wrote that the ruling dealt with employment alone and didn't apply to "sex-segregated bathrooms, locker rooms, and dress codes," all of which are regulated under another law, Title IX of the Education Amendments Act of 1972, which wasn't at issue in the court case.
The court ruling brought an expanded meaning to the phrase "on the basis of sex" that appears in the nondiscrimination provisions of the Civil Rights Act of 1964, and followed the court's controversial 2015 ruling that gave same-sex couples the right to marry in the 5–4 decision of Obergefell v. Hodges.
A lack of linguistic clarity has clouded legal issues in recent years as the concepts of sex and sexual identity or gender have become difficult to separate. Despite the distinct meanings of "sex" and "gender," many institutions and individuals use "gender" to mean biological sex.
But the Bostock ruling embraced the concept of gender identity, which conservative critics say is a radical political invention not based on science. The Trump administration reasoned that if Congress wanted to forbid discrimination based on gender or sexual identity, as opposed to biological sex, it would have done so explicitly.
Becerra said the policy change will make things fairer in health care.
"The Supreme Court has made clear that people have a right not to be discriminated against on the basis of sex and receive equal treatment under the law, no matter their gender identity or sexual orientation. That's why today HHS announced it will act on related reports of discrimination," Becerra said in a statement.
"Fear of discrimination can lead individuals to forgo care, which can have serious negative health consequences. It is the position of the Department of Health and Human Services that everyone—including LGBTQ people—should be able to access health care, free from discrimination or interference, period."
Discrimination in health care impacts health outcomes, according to HHS. Research shows that one-quarter of LGBTQ people who faced discrimination postponed or avoided receiving needed medical care for fear of further discrimination, the agency said.
"The mission of our Department is to enhance the health and well-being of all Americans, no matter their gender identity or sexual orientation. All people need access to health care services to fix a broken bone, protect their heart health, and screen for cancer risk," said Rachel Levine, assistant secretary for health.
"No one should be discriminated against when seeking medical services because of who they are," said Levine, who was born male but now identifies as female.
The Trump administration took a stand against the principles articulated in the Bostock decision days before it was handed down.
In an effort to protect religious freedoms, Trump's HHS finalized a rule June 12, 2020, that followed federal court rulings finding that the Obama administration overreached when it issued a rule prohibiting discrimination in health care and health insurance on the basis of patients' "internal sense of gender."
In 2016, the Obama administration published an HHS rule interpreting "sex" to mean sexual identity or gender, which it defined as "one's internal sense of gender, which may be male, female, neither, or a combination of male and female."
Finding that the rule was probably contrary to applicable civil rights law, the Religious Freedom Restoration Act, and the Administrative Procedure Act, a federal court preliminarily enjoined it at the end of 2016. The court finalized its judgment in October 2019, striking down the offending provisions of the rule. A second federal court concurred.