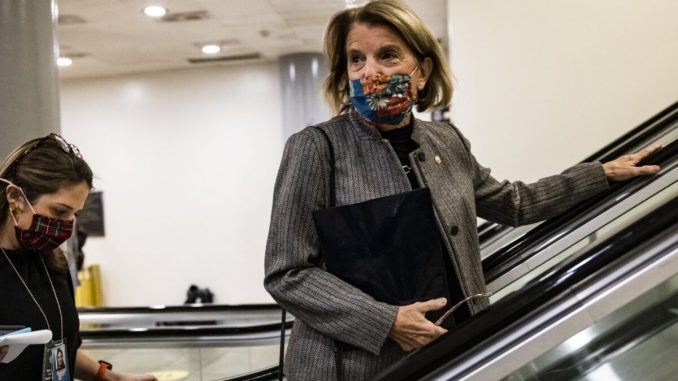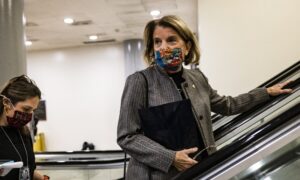 President Joe Biden spoke with Sen. Shelley Moore Capito (R-W.Va.), who is leading a Republican response to Biden's infrastructure proposal, on Thursday about the president's plan to pass a sweeping $2.3 trillion infrastructure package, according to the White House.
The call signals willingness from both sides to negotiate on a bipartisan infrastructure plan following intense criticism over the Democrats' decision to push forward with the latest COVID-19 relief package without Republican support. The concerns about the lack of bipartisanship were renewed following Biden's 100-day speech on Wednesday, with Republicans remaining cynical about how much input Democrats actually want from Republicans.
"They had a warm, friendly conversation and continued their dialogue about infrastructure and jobs, reiterating their willingness to negotiate. They also discussed having another potential in-person meeting in the near future," the White House said in a statement to reporters.
Meanwhile, Capito described the call as "constructive and substantive" in a separate statement. "We both expressed our mutual desire to work together [and] deliver results for the American people. I stand ready to be a partner in advancing bipartisan infrastructure legislation—just as we've done in the past," she wrote on Twitter.
Republicans are fighting to slim down the multi-trillion-dollar package that they say contains provisions that are extraneous and have little to do with infrastructure. They are also apprehensive about rolling back Trump-era tax cuts, which is a key feature of Biden's plan. To pay for the infrastructure plan, the White House is proposing to raise the corporate tax rate to 28 percent from the current 21 percent.
Many Republicans, including Senate Majority Leader Mitch McConnell (R-Ky.), have also expressed an appetite for smaller bipartisan infrastructure solutions.
Last week, Capito and other Senate Republicans unveiled a $568 billion infrastructure counterproposal, which will focus on the traditional concept of "infrastructure." The GOP plan includes $299 billion on roads and bridges, $61 billion on public transit systems, $20 billion on rail, $35 billion on drinking water and wastewater infrastructure, $13 billion on safety programs, $17 billion on ports and inland waterways, $44 billion on airports, $65 billion to expand broadband access, and $14 billion to address water shortages.
Lawmakers from both sides of the aisle have also expressed concern over the combined price tag associated with Biden's agenda. On Wednesday, Biden announced a new major legislative package that is set to cost $1.8 trillion, dubbed the American Families Plan. The measure is slated to expand access to community college and preschool, as well as child care and healthcare for families, and would be funded mainly by tax increases on wealthy Americans.
The latest proposal combined with the infrastructure bill and COVID-19 relief would push the spending total to $6 trillion.
"It's a lot of money, a lot of money," Sen. Joe Manchin (D-W.Va.), who is seen as a key swing vote in a 50-50 Senate, told reporters on Wednesday. "That makes you very uncomfortable."
"We're at $28.2 trillion now, debt, so you have to be very careful. There's a balance to be had here," he added.
Similarly, Sen. Mitt Romney (R-Utah) said on Wednesday that Biden's legislative proposals need to be curbed.
"In his first 100 days, he's asked for $100 trillion in spending," Romney told reporters on Wednesday, without explaining how he came up with the $100 trillion figure. "To put that in context, our total federal budget that we vote on every year is $1.4 or $1.5 trillion."
"So it's a massive amount of spending. So I think maybe if he were younger I'd say his dad needs to take away the credit card," he added.
Biden has previously attempted to engage with Republicans on his infrastructure plan and has led two bipartisan meetings at the White House to discuss his proposal.