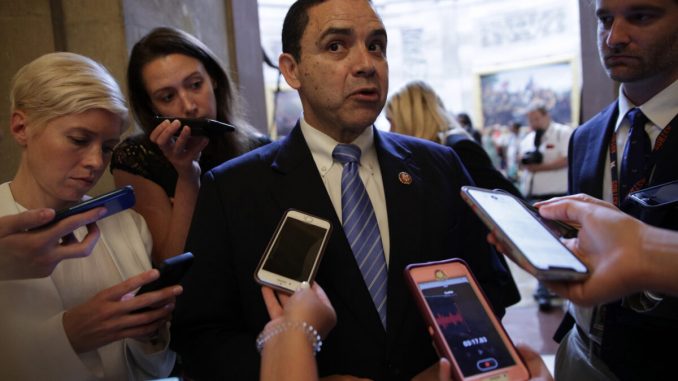 A Texas Democrat who has been critical of the White House's immigration policies said in separate interviews on Fox News and MSNBC that aired Thursday that "the border is not under control" and that the Biden administration is playing a "shell game" by shifting unaccompanied minors "from one tent to another tent."
Rep. Henry Cuellar (D-Texas) said in an interview on "NBC Nightly News" that recent photos showing far less crowded housing conditions for unaccompanied migrant children in Border Patrol custody in Donna, Texas, paint a misleading picture of the border crisis.
"What they're doing now is they're moving the kids from the Border Patrol tents over to next door to the HHS facility. With all due respect, it's all a shell game," Cuellar said, referring to facilities run by the Department of Health and Human Services (HHS).
Cuellar made similar remarks in an earlier interview with Border Report, when he said, "all they're doing is they're moving kids from one tent to the other tent and saying, 'Oh, they're not in the Border Patrol [custody].'"
The Department of Homeland Security (DHS), which operates the Border Patrol facilities, says the children are in HHS custody but declined to disclose the location, according to Border Report.
Officials at DHS didn't immediately respond to The Epoch Times for comment.
The agency said the recent photos "demonstrate the tremendous progress that DHS and its partners have made to safely and efficiently transfer these children out of CBP custody and into the care of HHS."
Photos released May 4 by the Biden administration show the Donna facility nearly empty, in contrast to photos released in March that showed throngs of youths being packed tightly into the facility.
White House press secretary Jen Psaki says unaccompanied minors are spending less time in federal processing facilities.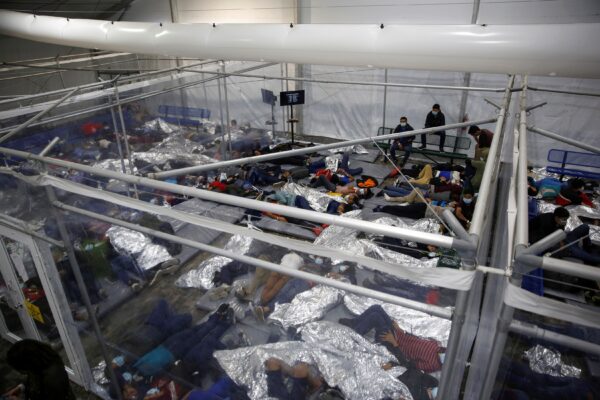 "The amount of time children spend in [Border Patrol] custody is down 75 percent, from 131 hours at the end of March to under 30 hours now," Psaki told reporters this week.
Republicans have blamed President Joe Biden's messaging on immigration as well as a rollback of some Trump-era policies for the surge of illegal immigration and crowding at border facilities.
In March, immigration agents apprehended over 172,000 individuals seeking to illegally enter the United States. According to the latest report by U.S. Customs and Border Protection, more than 351,800 encounters were made in the first three months of 2021, compared to 107,700 during the same period in 2020.
The Biden administration has blamed the influx of illegal immigrants on seasonal factors and the crowding at facilities on a "broken" immigration and asylum system inherited from the Trump administration, a narrative Psaki once again pushed at the May 4 briefing.
"After four years of an immigration system rooted in destructive and chaotic policies, President Biden is taking the challenge head on and is building a fair, orderly, and humane immigration system," she said.
Cuellar disputed the notion that the system was "broken" in an interview on the "Fox News Rundown" podcast that aired Thursday.
"To say that the whole system was broken down, I would disagree," Cuellar said, adding that he disagreed with some Trump-era policies, like the child separation policy. But he criticized the Biden administration for doing away with the Migrant Protection Protocols (MPP) program, dubbed the "Remain in Mexico" policy. Experts have told The Epoch Times that former President Donald Trump's MPP program effectively ended the Obama administration's "catch and release" protocol given to U.S. border officers and significantly reduced the number of migrants arriving at the southern border in 2019.
"The Migrant Protection Protocols program, I think that one, instead of just getting rid of that, I think we should have repurposed that," Cuellar said.
"Or even the agreements we had with Central America and Mexico that got taken away and now they're trying to do something else, trying to reach some sort of agreement. We should have not gotten rid of those agreements. We should have repurposed those agreements," Cuellar said.
The Biden administration in February suspended Trump-era asylum agreements with El Salvador, Guatemala, and Honduras, as part of Biden's bid to undo his predecessor's immigration policies. The so-called "safe third country" agreements, signed in 2019 by the Trump administration and the Central American nations, require would-be refugees to first apply for asylum in those countries before applying in the United States.
In April, the Biden administration signed deals with Mexico, Honduras, and Guatemala to tighten their borders in an attempt to stem the flow of migration, later promising to provide aid to so-called Northern Triangle countries in a bid to ameliorate the often dire living conditions there that drive people to leave their homes in search of a better life in the United States.
The White House recently announced $310 million in emergency aid to Honduras, El Salvador, and Guatemala, collectively known as the Northern Triangle, and Biden has proposed a broader $4 billion aid package over the course of four years that would tackle the "root causes" of migration, like poverty, corruption, and crime.
Critics have argued it won't do much to stem the flow of migration to the United States.
"It's magical thinking to believe that anything the U.S. government does can eliminate the need for many families in this region to make choices involving migration," said Michael Clemens, the director of migration, displacement, and humanitarian policy and a senior fellow at the Center for Global Development, in remarks to Vox.
Not only that, but sending economic aid could even spur more people in Central America to leave their homes.
Clemens' research with Princeton Ph.D. candidate Hannah Postel, as cited by Vox, found that foreign aid that focused on economic development was, in fact, associated with increases in emigration from poor Northern Triangle countries as the aid was insufficient to improve living conditions significantly enough to make people want to stay, but provided sufficient resources for them to decide to undertake the long trek north.
Jack Phillips contributed to this report.