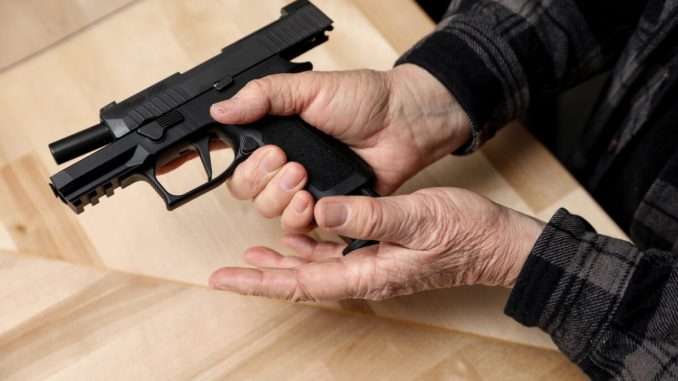 The number of guns bought in the month of April surpassed any April on record, according to an analysis of FBI background check data.
Over 3.5 million checks were done across the month, according to the newly released NCIS background check data.
Background checks are done for both permitting and buying firearms.
The National Shooting Sports Foundation (NSSF), a firearm industry trade association, said adjusted figures show 1.69 million checks were done for buying guns. That's a record high for the month of April, an increase of nearly 1 percent from April 2020.
Gun purchases spiked in March 2020 as the country went into lockdown due to the COVID-19 pandemic and have remained at unprecedented levels since then, Mark Olivia, director of public affairs for the foundation, told The Epoch Times in an email.
Sales in each month have ranged between 1.5 million and 2 million per month, driven in part by first-time buyers.
"Firearm sales remain elevated on two distinct concerns. Americans are buying firearms for concerns for personal safety and for White House and Congressional efforts to limit and deny the ability to purchase certain firearms. The continued gun control statements by President Biden, many of which have been fact-checked and debunked as false, are driving sales," Olivia said.
President Joe Biden's administration has made gun control a key focus and is attempting to convince Congress to pass various measures that would restrict gun ownership.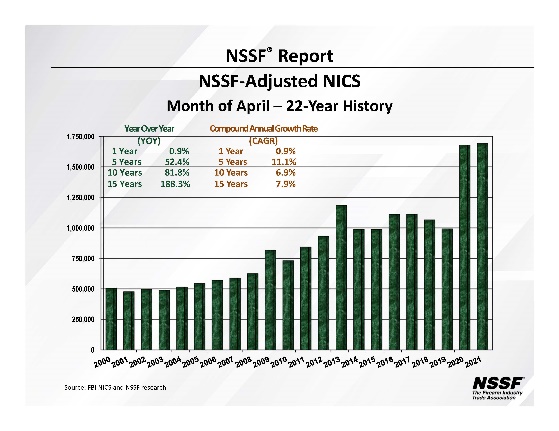 In the meanwhile, the Democrat last month announced a slew of executive actions, including directing the Department of Justice to issue a rule aimed at curbing the spread of so-called ghost guns, or guns that are made from build-it-yourself kits.
Republicans on the county, state, and federal level have vowed to challenge Biden's measures, and are trending in the opposite direction by introducing and passing bills that would loosen restrictions.
The FBI background checks done in April are a drop from the nearly 4.7 million checks done in March, which were a record high. That month saw 2 million checks for gun purchases alone, the second-highest total in history behind the 2.3 million gun checks conducted in March 2020.
The NSSF adjusted figures do not account for situations where a qualified permit holder who has undergone a background check to obtain the permit uses it to buy a gun without a separate additional background check. Half of U.S. states currently permit such situations.
The vast majority of the overall checks in 2021 through April 30 have been requested in Illinois, according to bureau data. The 4.2 million checks in the state are far beyond any other state, with Kentucky coming in second with 1.1 million.