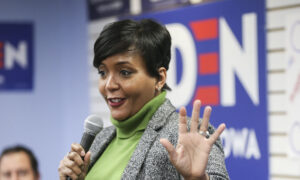 Atlanta Mayor Keisha Lance Bottoms, a Democrat, announced on Thursday that she will not be running for a second term as mayor.
Bottoms made the announcement in a lengthy statement and an accompanying video after sharing her decision with friends and close associates.
"As Derek and I have given thoughtful prayer and consideration to the season now before us, it is with deep emotions that I hold my head high, and choose not to seek another term as Mayor," Bottoms wrote in her letter (pdf), referring to her husband Derek.
"While I am not yet certain of what the future holds, I trust that my next season will continue to be one full of passion and purpose, guided by the belief that within each of us is the power and responsibility to make a positive difference in the lives of others."
Bottoms narrowly won a runoff election four years ago and rose to prominence among the Democratic party where she was seen as a key ally for President Joe Biden during his campaign.
Her profile continued to rise early during the COVID-19 pandemic and the renewed attention on policing in the United States after George Floyd's killing by a white Minneapolis police officer last spring.
Bottoms was also floated to be a possible vice presidential candidate for Biden and had been offered a position in his cabinet, which she turned down in December.
In her statement, she addressed questions on whether she could have secured another term, noting that "multiple credible polls" have indicated that she would be re-elected.
"'Is she afraid of the competition?' NEVER. I have engaged in several elections, facing multiple candidates, and never once have I cowarded from the competition," she wrote.
The mayor recently faced criticism after an Atlanta police officer, who was fired in the death of Rayshard Brooks, was reinstated by the Atlanta Civil Service Board. The officer, Garrett Rolfe, was fired last June, a day after he shot Brooks in the parking lot of a fast-food restaurant. Rolfe was later charged with murder.
But the board on Wednesday reversed the firing, finding that the city did follow its own procedures and failed to grant Rolfe due process. Bottoms said then that Rolfe would remain on administrative leave while criminal charges against him are resolved.
The Associated Press contributed to this report.