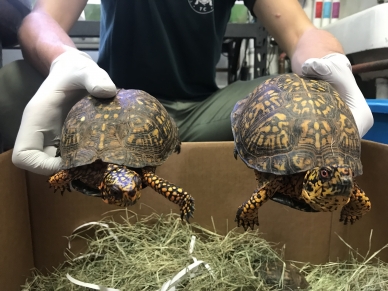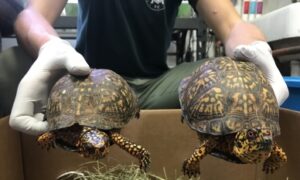 A Chinese national living in California has pleaded guilty to conspiring to smuggle hundreds of endangered and vulnerable turtles from the United States to China, according to federal prosecutors.
The Justice Department announced that 30-year-old Yuan Xie participated in a scheme with another Chinese national, Xiao Dong Qin, that would see 769 live turtles smuggled into China. The crime occurred between May 2017 and October 2018, court documents said.
The live turtles purchased by Xie from reptile dealers across the country are protected by the Convention on International Trade in Endangered Species of Wild Fauna and Flora, the department said.
His arrest came following a two-year investigation by the U.S. Fish and Wildlife Service, which found that Xie facilitated the purchase and transportation of approximately 134 Florida box turtles, 178 eastern box turtles, 127 North American wood turtles, 220 spotted turtles, 77 diamondback terrapins, 25 three-toed box turtles, seven yellow-blotched map turtles, and one Blanding's turtle from his former residence in Eugene, Oregon.
The total cost of the turtles was determined to value over $150,000 and the estimated market value would have been double the amount in the Chinese pet trade.
As part of his plea agreement, Xie has agreed to pay $2,233 in restitution to a rehabilitation facility near Chicago and The Turtle Conservancy near Los Angeles for the costs associated with caring for the turtles seized by law enforcement.
He faces a maximum sentence of ten years in prison, a $250,000 fine, and three years of supervised release. His sentencing is scheduled for Aug. 12, 2021.
His co-defendant, Qin, 35, was sentenced to two years' probation and nearly $8,000 in restitution in February last year.
In late April, a 35-year-old man was arrested after authorities found 35 live songbirds stuffed inside hair curlers and attached to his clothing. The man, Kevin Andre McKenzie, was accused of traveling from Guyana to John F. Kennedy International Airport unlawfully carrying three dozen finches.