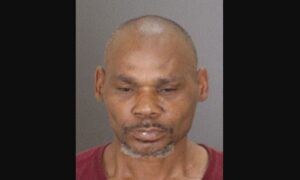 Two Asian women in their 60s were attacked by a male suspect in Baltimore on Tuesday, officials said.
The suspect, who appears to be a black male, is seen on surveillance video footage repeatedly hitting the two victims, ages 67 and 66, in the head with a cinder block or a brick, officials said. He was identified as 50-year-old Daryl Doles.
Doles was accused by officials of attacking the women as they were closing their shop, reported FOX5.
Maryland Gov. Larry Hogan issued a comment about the incident.
"I saw it before it hit the news. My daughter shared it with me from her friend. I was outraged. It's just another example of this violent outburst and attacks on Asians all across the country," Hogan said, as reported by the Fox affiliate station.
"We're going to get to the bottom of this. We already have the state police working in junction with the city to investigate. I've already talked to Rob Hur who's setting up our hate crimes task force, former U.S. Attorney. I'm sure we're going to hear more about this," he continued.
Doles was charged with two counts of aggravated assault, NBC reported. It's not clear if hate crime charges will be filed.
"I urge everyone to do all we can to raise awareness and to speak out against bias, hate, and violence against any members of our city and community, including Asian Americans," the victim's lawyer Robert Hur told the news outlet.