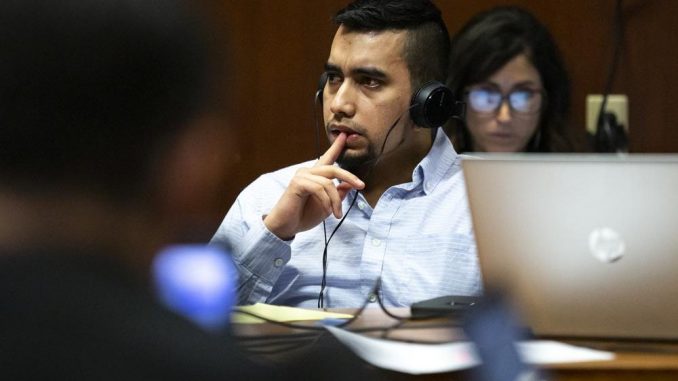 OAN Newsroom
UPDATED 7:25 PM PT – Tuesday, July 27, 2021
Former Iowa farmhand Cristhian Bahena Rivera could get off scot-free after being convicted for killing 20-year-old Iowa college student Mollie Tibbetts. On Tuesday, Bahena Rivera's defense attorneys pushed for a new trial for the undocumented immigrant by arguing he was framed for the murder.
They argued two witnesses have come forward and claimed someone else killed Tibbetts.
Jennifer Frese: "So, you don't recall any sort of tips that Molly Tibbetts could have been the victim of sex trafficking?"
Trent Vileta: "It's possible. I had tips she was eating ice cream in Sioux Falls and eating tacos in Denver, Colorado. So, it would not surprise me if there were tips that she was a victim of sex trafficking."
One witness was a woman in Tibbetts' hometown, who told authorities she was lured by a man, kidnapped, sexually assaulted and held in a home used for sex trafficking just weeks before Tibbetts murder. The main suspect in that case was also linked to a disappearance of an 11-year-old boy, but was never charged with either investigation.
In addition, the defense team called on prison inmate Arne Maki to testify. He said the real killer confessed to the murder and set up of Bahena Rivera.
"He said, you know the guy that's being charged for it right now? I said no I don't," he explained. "He's like we set him set him up. It was a sex trafficking case gone wrong."
However, investigators argued all the evidence of the Tibbetts' case pointed to Bahena Rivera as the killer. They stressed Bahena Rivera gave a partial confession to stalking the 20-year-old while she was on a run before stabbing her and hiding the body in a cornfield.
Two months ago, Bahena Rivera was convicted of killing Tibbetts, but his sentencing hearing was delayed to accommodate the inclusion of the new evidence.
Meanwhile, the presiding judge, Joel yates, vows to take in the new details and issue a written decision as soon as possible.